University Library Newsletter Issue 34 Summer 2019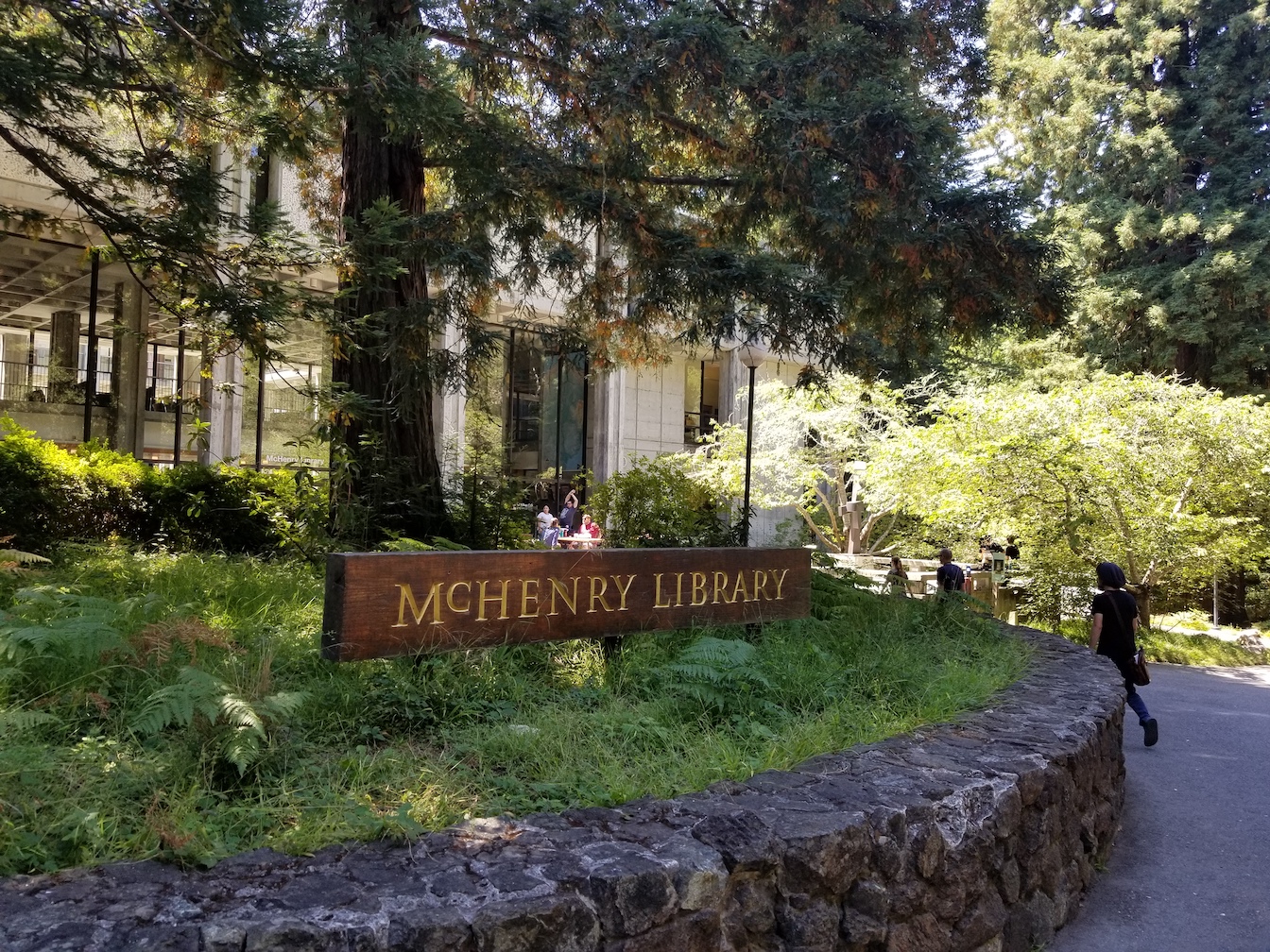 "It's good to be home" Donor and alumna Kathleen Rose shares her love for libraries
Interview with Head of Special Collections & Archives: Teresa Mora
Sneak Preview: The Digital Scholarship Innovation Studio (DSI)
Science & Engineering Library renovation update
Songs of Labor & Transcendence: The Trianon Press Archive
2019 Library Student Graduates
Dear Friends and Supporters,
 
As we are winding down the summer and getting ready to welcome the new academic year here at UC Santa Cruz, I want to dedicate this issue of our newsletter to our students. They help us define and refocus our core mission, and it is serving their needs that keeps us continually evolving and finding new ways of bringing them the services and information that they need.
 
The renovation of McHenry was what really established the library as a key student center at UC Santa Cruz. Within the first quarter after the building reopened, the number of people entering the building jumped 75%. During construction, there was also a rise in use at the Science & Engineering Library—we thought it would drop as students went back to McHenry Library, but instead it just kept rising. This clearly shows that there is a great deal of demand for this kind of space on our campus.
 
In response, we are constantly trying to make the student experience at both libraries the best it can be. Our students' demographics have changed dramatically, and as a result, we strive to know where today's students are coming from and what kind of information interface will allow them to access the content they need. More importantly, we analyze what we are doing that could in fact be inhibiting student success.
 
Take the group study rooms, for example. In the Science & Engineering Library, you used to have to go to the desk and check out a key to access the rooms. Now, you can book rooms online and use them at will, unmediated and unpatrolled. The students respect our policies because they like the space so much and treat it as something special. Everyone wins.
 
We also look to our Library Student Advisory Council to help us engage more proactively with our students. This is a two-way communication, both by way of getting feedback on what we're doing and by helping students understand why we are making certain decisions on their behalf. The students here are creating community in ways we might not know about, so we need to look to them for guidance.
 
And last but not least, we rely on student employment to run the library. We hire a lot of students, and they get a lot out of working here—so much so that some stay on after graduation. Either way, they are learning valuable skills that will help them post-graduation, as for many of them, it is their first job.
 
So, as we prepare to welcome the next class of students back onto campus, please take a moment with me to appreciate all that they do for us, both for the Library and the campus at large. Here's to a successful year ahead.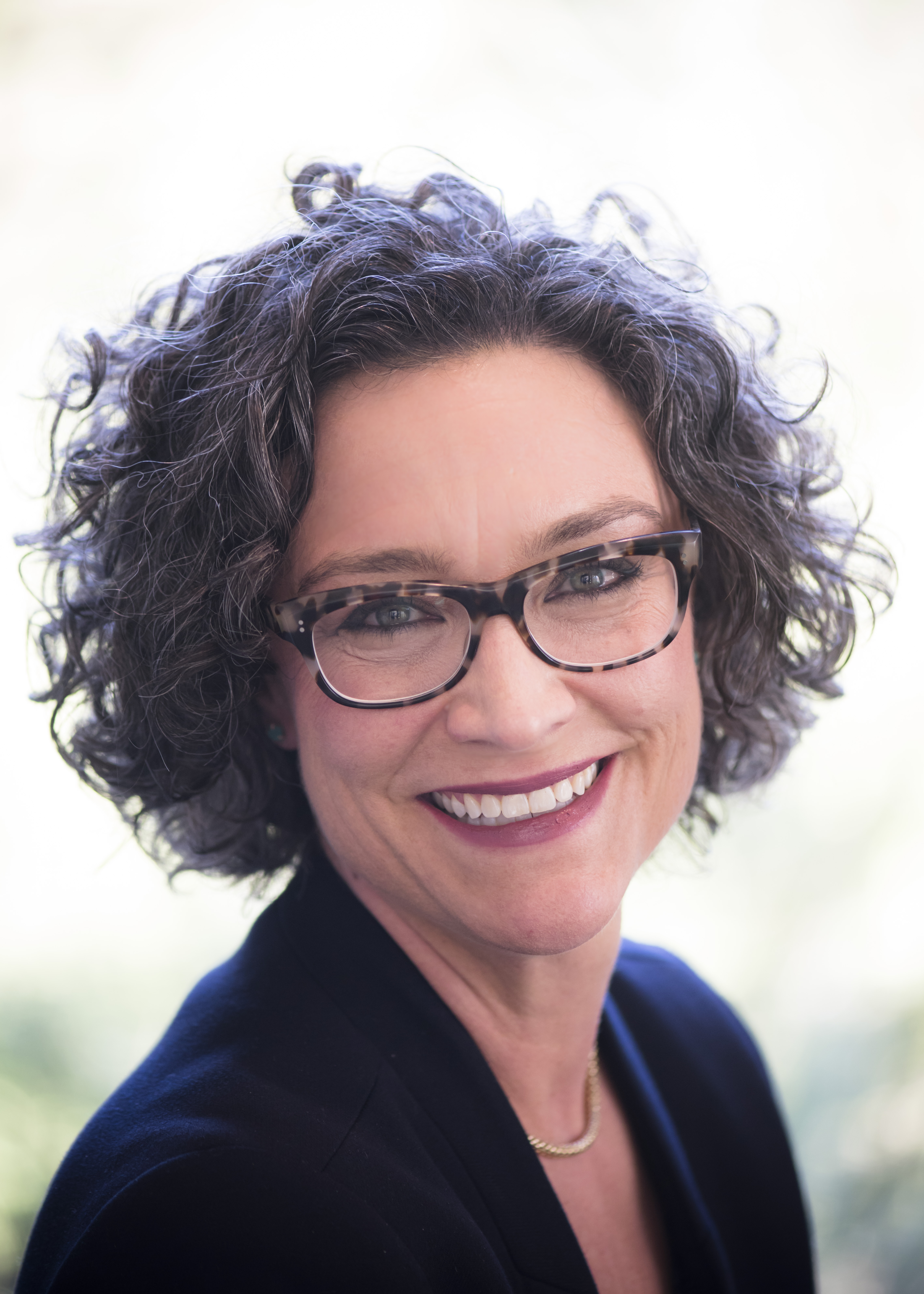 Best wishes,
Elizabeth Cowell
Richard L. Press University Librarian

Dear reader,
Summer is always a special time at UC Santa Cruz. It's a time when the deer and rabbits take back the trails from the crush of students, when getting a parking permit means there will actually be parking spaces available, and when the sunlight hitting the oak and pine trees creates that inimitable smell of summer.
To my surprise, when I visited McHenry Library in July to conduct my interviews for this edition of the newsletter, the library was quite well populated. I'd imagined it would be a ghost town with everyone gone for summer, but the café was jumping, and every floor had at least one or two people at every table. Clearly, if you're on campus during the summer, the library is where to be. 
As donor and alumna Kathleen Rose says in my interview with her, the library has truly become a center of student life on a campus that doesn't have many. And, as our University Librarian Elizabeth Cowell points out in her introductory letter, our student community is now more diverse than ever before. Clearly, the campus on which I grew up never stops teaching me new lessons—or showing me new faces.
Speaking of new faces, I was thrilled to interview Teresa Mora, our (relatively) new Head of Special Collections and Archives. She's been in the position for over a year, but compared to the longevity of her predecessors (Rita Bottoms held the position for more than 30 years), Teresa is just getting started. I enjoyed learning more about her goals for Special Collections and Archives during what is hopefully an equally long stint at the helm.
The fantastic thing that I'm coming to know about McHenry Library, though, is that it is not only skilled at preserving and honoring the past—it is on the cutting edge of the future as well. My tour of the Digital Scholarship Commons made me feel like I had entered something out of the Jetsons. I especially love the belief espoused on their website: "We believe that personal innovation and growth thrives in an environment where productive failure is an option. We aim to create a space that provides our users with the tools they need to succeed in such an environment." Teaching students the way to "productive failure," my friends—that is the path to the future.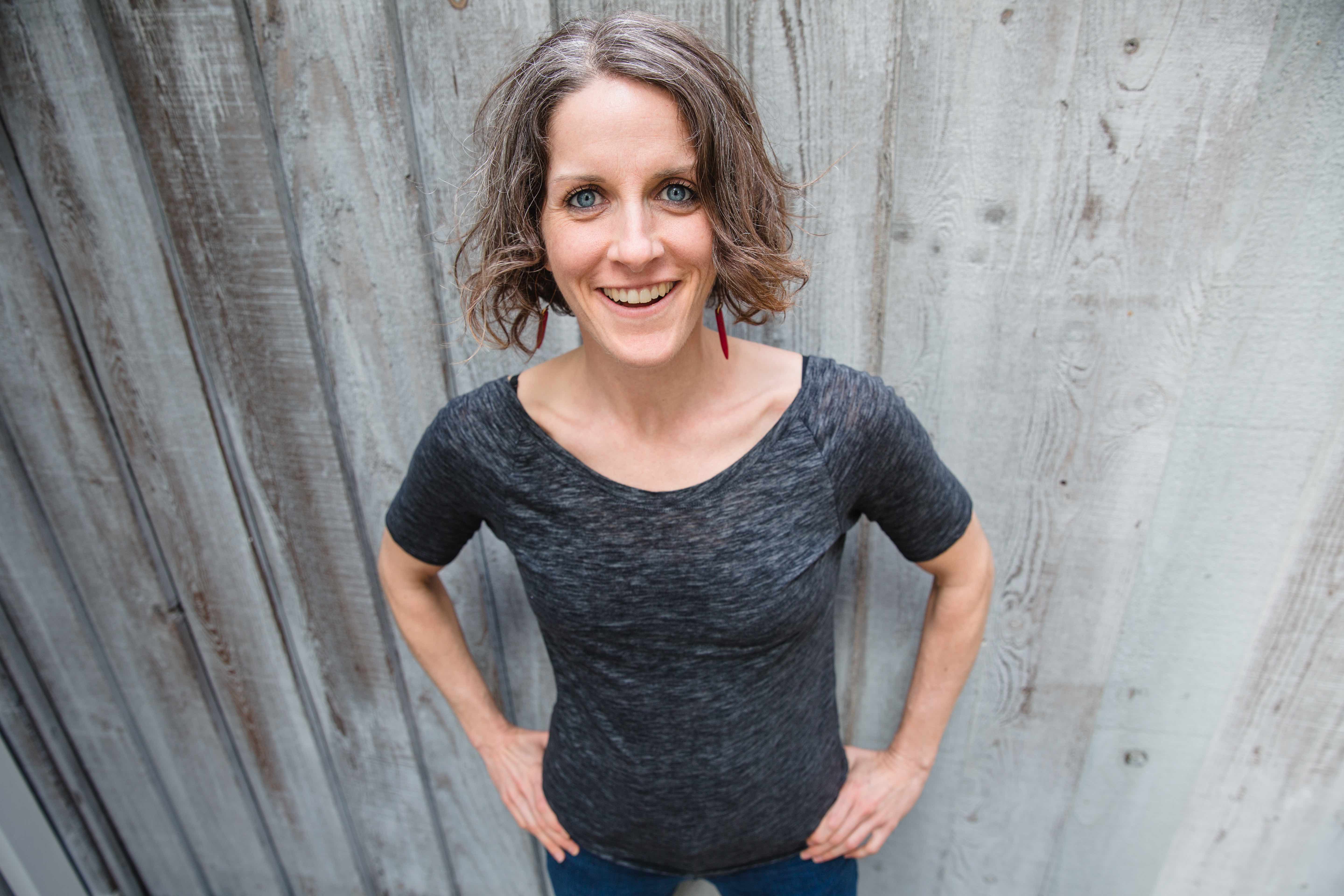 Thank you for exploring these aspects of the University Library with me this quarter. And, wherever this finds you, I hope that you are enjoying your summer just as much as we are here in Santa Cruz.
Best,
Zoe Quinton
"It's good to be home"- Donor and alumna Kathleen Rose shares her love for libraries
Donor and alumna Kathleen Rose has spent her whole life in and around libraries. In fact, she owes her existence to one, as her parents first met at the Powell Library at UCLA, where her mother was working. One day her father (a first-generation Greek immigrant and psychology student) handed her a book request slip that read simply, "Will you go out with me?" Her reply was a slip in return saying, "We don't have that book."
Nonetheless, her father persisted, and Kathleen was born in UCLA graduate student housing. She accompanied her mother to the university library as a tiny baby in her bassinet, and a lifetime of bibliophilia began.
From the start, Kathleen found solace in two things: books and animals. Her father, by then a clinical psychologist working at NPI at UCLA, allowed her to adopt one research rat per month. Thus her menagerie grew, until at one point it numbered eighty-four animals, including racing pigeons, nightingales, finches, a Florida Gallinule, guinea pigs, mice, hamsters, ducks, three cats, and a dog.
On the other side of that equation, she read her way through the local public library until she ran out of young peoples' books and ventured into the adult section. Since she liked horses, she figured that she'd start with a book about the four horsemen of the apocalypse, which quickly served as her introduction to the fact that the titles of adult books do not always reflect their subject matter.
Later on, in 1967, Kathleen experienced a similar shock to her system when she came to UC Santa Cruz at the height of the hippie era. For a kid who'd grown up in libraries or surrounded by animals in a house that was a "monument to books," this came as a real adjustment. Undeterred, Kathleen quickly found her place with a job in the circulation department at the library.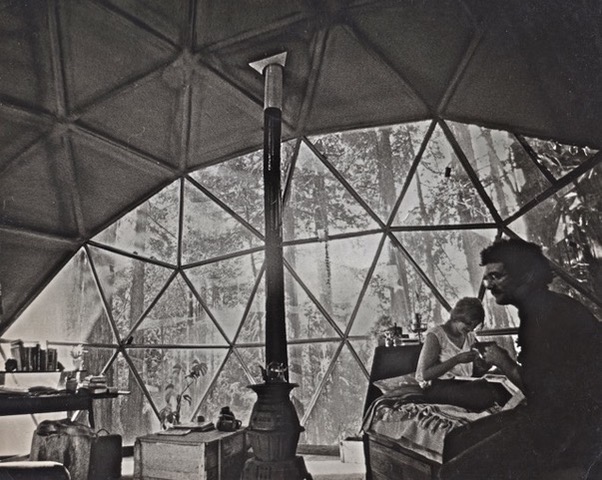 Kathleen met her husband, Paul Schoellhamer, while at UC Santa Cruz. He'd been a member of t
he pioneer class on campus and was at the time building geodesic domes, including those on the commune in Ben Lomond where he lived. She eventually moved in with him there, at first on the porch of a friend's dome and later on in one of their own—"dome sweet dome," as she calls it. Perched on a hill among the redwoods with no running water or electricity, Paul and Kathleen lived on their commune for three years, during which they were interviewed by LIFE magazine for a story on hippies.
All that time, Kathleen was still working at the library while also completing a major of her own creation in Russian Studies. She focused on Russian history, culture, and literature from the Crimean War to 1960s, and graduated in 1973 after a trip to the USSR in 1972. After she finished school, her mother—still at the UCLA library—sent her a job listing with a Washington, DC-based think-tank named TEMPO Center for Advanced Studies. She got the job, and Paul, who was interested in politics, said sure, let's do it.
As it happened, they drove their sixteen-foot moving van (which they'd driven across the country for a professor who was also moving to the East Coast, their few possessions tucked in a corner) into Washington on the very day that Nixon resigned. When they drove past the White House, the crowds gathered outside cheered them, thinking they'd arrived to move out the soon-to-be former president.
Once at TEMPO, she soon discovered that her new role as a Russian speaker was to read through stacks of Soviet military newspaper articles and summarize them for the three analysts she reported to. She soon started doing her work and finding additional materials in the Russian reading room at the Library of Congress, which she said felt like coming home. Before too long, Kathleen started wondering about the sociological impact of the studies she was reading—how many eighteen year olds in the USSR were going to be Russian in the years to come? What were the ramifications of being a multinational society for the USSR?
When Kathleen posited this question to her bosses, they immediately told her to propose a detailed study on the topic at the Pentagon. To her surprise, the study was funded, and Kathleen was promoted to full analyst. Her study, more sociological than military, helped shift the focus of the debate on relations with the USSR.
Meanwhile, her partner Paul, who had long been interested in the history of early gliding flight, got a job volunteering at Norman Mineta's office. There he worked on a study regarding noise reduction for landing passenger aircraft in urban areas. Within four months, they were paying him, and ultimately he was made chief of staff of the Aviation Subcommittee in the House of Representatives.
As Kathleen says, UC Santa Cruz was crucial to both of their rapid success stories. Moving to DC at the height of Watergate after living on a commune for three years was a massive culture shock for both of them, but they were able to hit the ground running due to their solid education at UC Santa Cruz. She said, "We didn't know the right people or have the right clothes, but we showed up there and we had secret powers: we knew how to write, and we knew how to think."
After three years at TEMPO, Kathleen was hired by USIA (the United States Information Agency) to tour the Soviet Union with an exhibit on American techniques in photography. This was after the Kitchen Debate between Nixon and Khrushchev in 1959, wherein the Americans came to Moscow and demonstrated the many time- and labor-saving home goods that (in theory) anyone could afford in a capitalist economy.
Paul took a leave of absence and they were off—after quickly getting married by the House chaplain because, as the USIA said, "You can't take your paramour with you!" The Soviets, for their part, assumed he was a spy, because who would leave take a leave of absence from their job on the Hill to be a husband traveling with a photography exhibit?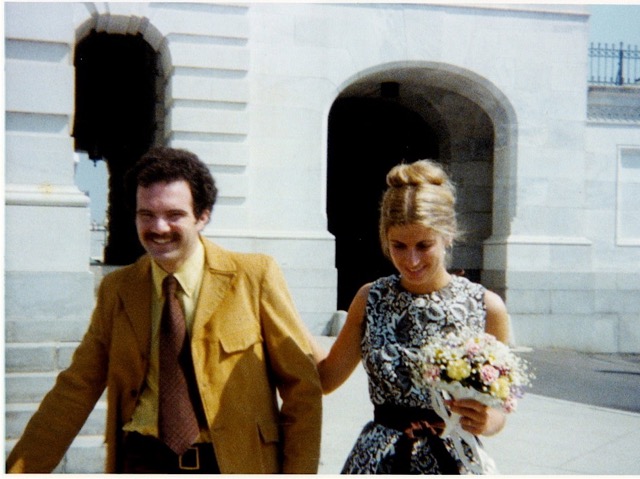 Nevertheless, that's exactly what the newlyweds Kathleen and Paul did. The exhibit included an entire mobile darkroom, viewable through red Plexiglas to avoid damaging the prints being processed. Unlike the rest of the USIA representatives, however, Kathleen tried hard to represent the States in a fair and accurate light, and to avoid acting as a propaganda tool. To her dismay, however, at one stop a Soviet citizen remarked, "Every day you get up and trash your country, and you're still here!" So in trying to avoid becoming a propaganda tool, that's exactly what she did.
After getting back from the USIA posting, Kathleen sat the foreign service exam. She passed both the written and oral exams, but before she could be assigned abroad, Paul was offered the position of VP at Republic Airlines. By this point, they had two small children, so Kathleen decided to turn down the posting.
After spending a number of years as an interpreter for Soviet cultural groups visiting the US, Kathleen pivoted yet again and added yoga teaching to her resume. She taught on the Hill, at the World Bank, and had a number of private clients, including Arianna Huffington, amongst others. Ultimately, she created a career that fit in with her schedule as the mother of young children. Once more, she attributes this flexibility (literally) to UC Santa Cruz, as that's where she had taken her very first yoga class.
Soon enough, their kids were grown, and thirty-three years had gone by since Kathleen and Paul had left Santa Cruz. She describes their time on the East Coast as "one long foreign service posting," as it took a long time for them to truly transcend their California roots and fit in.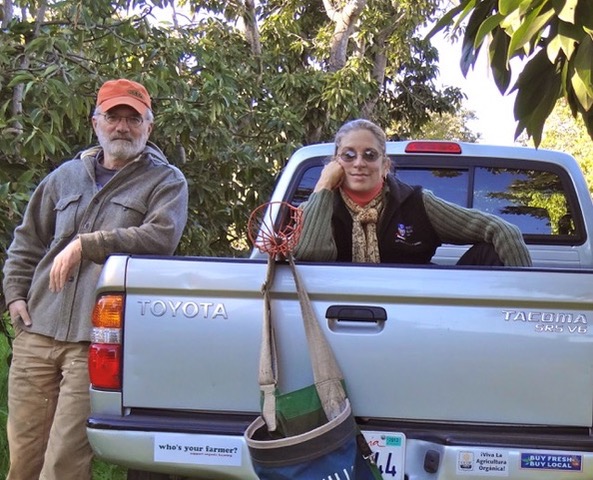 When Paul's parents passed away, he and Kathleen decided to move to Watsonville and take over the farm that his parents had built in the 1970s. Paul and Kathleen got the farm certified as organic and began to sell hundreds of pounds of avocados up and down the coast, both to restaurants and at farmer's markets. They have since ramped their production down and now sell only to wholesalers and donate to local food charities, but they still spend most of their time taking care of the farm and its attendant wildlife. I was lucky enough to visit Kathleen on her farm for our interview, and after we talked at her table admiring the incredible view, she gifted me a bag full of avocados that ripened into the best I've ever had.
As she settled back into her life in Santa Cruz County—which, she said, felt like being Rip Van Winkle—Kathleen of course gravitated toward her old place of both solace and stimulation: McHenry Library. Expecting the quiet, serene place she'd once known, she was surprised to walk in and find it home to a lively café packed full of students, but she quickly gave it her stamp of approval. "Libraries should be a gathering place," she said, "and combining food and books—what could be better?" Every seat in the newly revamped library had a student in it, she said, and it has become an important gathering place in a location that doesn't have many.
Kathleen's ties to libraries really came full circle, however, when Rita Bottoms (who I profiled last year here), the former head of Special Collections and Archives, introduced Kathleen to the Collectors' Club, which allows donors to view, discuss, and vote on which pieces to acquire. Kathleen had worked alongside Rita when she was still a student at UCSC, and Special Collections and Archives had eventually acquired some of the rare editions that her mother collected. Becoming involved with Special Collections and Archives as a donor was for Kathleen like entering the "sanctum sanctorum" of books. As she said to me, "Libraries are all superficially different, but they are all sanctuaries for information and sanctuaries for me as well. It's good to be home."
Interview with Head of Special Collections & Archives: Teresa Mora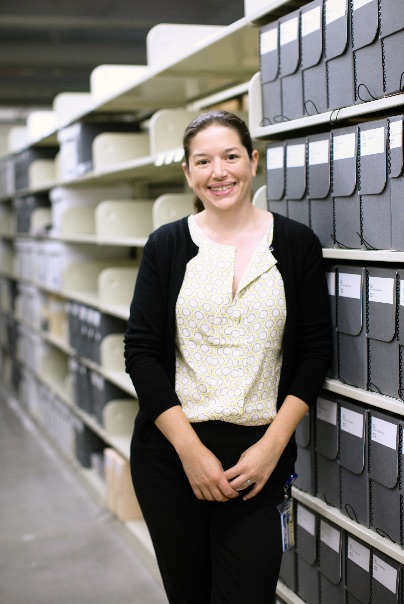 Teresa Mora, the recently appointed Head of Special Collections & Archives at UC Santa Cruz, has made a career and a calling out of preserving the past.
She went to UC Davis for her undergraduate studies, hoping to become a veterinarian. Thanks to an early mentor, she discovered public history and became interested in museum studies. She did an internship at the Smithsonian Institution Archives through the UCDC program, and enjoyed it so much that she went back the following summer. As a recovering academic and historian myself, I could understand this impulse. The archives were for me where history came alive.
In graduate school, Teresa pursued a master's in history at NYU with a focus on archival management. From day one, she interned in archival collections, and her small cohort of fellow students regularly discussed both what it meant to acquire and describe collections as well as how their work affects the way that history is told. After graduate school, she went on to work at the Brooklyn Historical Society and then as an assistant archivist at the ACLU in New York. When she saw an archivist job available at UC Berkeley, she decided to "come home."
After several years at Cal—where she describes her work as having been "mostly behind the scenes"—Teresa came to UC Santa Cruz as our first University Archivist. She started just after UC Santa Cruz's 50th anniversary in 2015, when the campus was celebrating its early history. UC Santa Cruz started as a revolutionary concept, she says, and while much of the early campus record had been preserved, it hadn't been collected or organized in any systematic matter.
Teresa's first challenge was to find what survived, and she reached out to many people who were dedicated to the vision of UC Santa Cruz. Sometimes, help came from unexpected quarters. For example, she once got a call from a maintenance person in Kresge who told her they had found some old documents in one of their buildings. The files they gave her turned out to be records from the founding days of the college, which contained ideas that were "really cutting edge" at the time. 
In 2017, Teresa was appointed as Acting Head of Special Collections & Archives when the previous Head, Elisabeth Remak-Honnef, retired. Teresa then permanently stepped into the role of department head in April of 2018.
Since her appointment, Teresa says she has become an ambassador for Special Collections & Archives as a whole: rare books, archival materials from a wide variety of prominent artists and thinkers, and local history. She works much less with the physical collections than she did in her previous positions, as this is a much more outward-facing role. She does miss the hands-on work, but says that is offset by being fully aware of what is coming in and how it can best be used and kept relevant. She is very targeted in her acquisitions for Special Collections & Archives, focusing on building the reputation we have for donations of counterculture archives (e.g., the Grateful Dead and Hunter S. Thompson) as well as using our limited acquisition budget to buy certain relevant rare b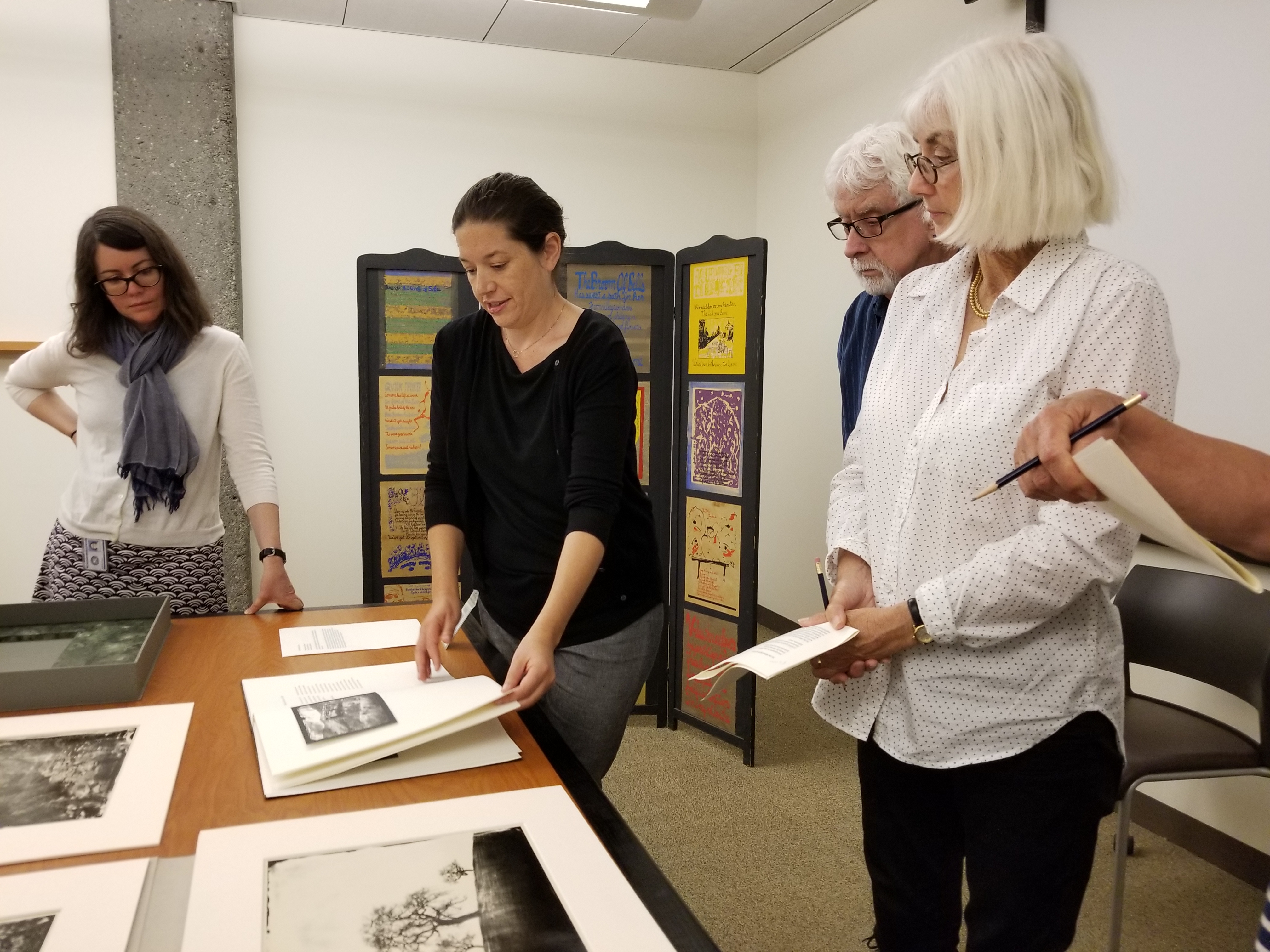 ooks.
On a personal note, I was recently lucky enough to attend a lunch for the Collector's Club during which we got to examine some botanical texts that were presented especially for this occasion. The books dated back to the 15th and 16th centuries, and included such gems as a Dutch treatise on mushroom hunting—pocket-sized, of course, for maximum convenience when in the field—and beautifully illustrated compendiums of medicinal herbs. These materials were truly breathtaking and represent only a small portion of what's housed in this wonderful set of collections.
When I asked Teresa how she hopes to grow Special Collections & Archives in the future, she replied that she'd like to develop the community history aspect of it, especially the early history of Santa Cruz County. She'd like to get a better handle on populations that haven't been well-documented in the past, particularly within our local history, as so many of our current problems are ones we've already faced (and solved) before. She's also always looking for collections that speak to our undergraduate students, as well as ways to get creative and expand the utility of Special Collections & Archives to professors and students in new disciplines.
From my perspective, both as a historian and a lifelong denizen of our wonderful campus, it's a pleasure to have Teresa Mora at the helm of our Special Collections & Archives. With her background in archival studies as well as her concern for the ways in which our histories are told, I look forward to seeing how our collections grow with her in charge. 
Sneak Preview: The Digital Scholarship Innovation Studio (DSI)

Back in January, I interviewed two UC Santa Cruz alumni and donors, Jim Gunderson and Peter Coha, at Jim's apartment in New York City. [Link to previous article.] Toward the end of our interview, they mentioned a brand-new space at the Science & Engineering Library called the Digital Scholarship Innovation Studio (DSI). Jim and Peter were early advocates and major supporters of this new space and their enthusiasm for it was infectious. I was intrigued, but given that I was in New York at the time, I did not get a chance to investigate further.
Six months, an entire continent, and about forty degrees in temperature later, I passed a pleasant summer afternoon investigating the cutting edge digital services on offer in UC Santa Cruz's libraries. I started out in the Digital Scholarship Commons (DSC) on the ground floor of McHenry Library, where I walked down a long hallway with multiple media listening and viewing rooms branching off to either side. At the end of the hallway, I discovered a large computer lab, a Virtual Reality studio, and an impressive data visualization wall. Finally, I reached the service desk where patrons can access the Library's multimedia collections as well as a long list of digital tools like podcasting microphones and 360° cameras.
I then made my way up the hill to the Science & Engineering Library, where I spoke with Kristy Golubiewski-Davis, Director of the DSC. We met in the brand new Digital Scholarship Innovation Studio, which opens to the public this fall. I was thrilled to get a sneak preview at what's to come, and found Kristy a helpful, friendly, and informative expert on all things 3D.
The Digital Scholarship Innovation Studio expands on the successful support of 3D modeling and VR in the DSC to include support for 3D fabrication and, ultimately, support the full life-cycle of 3D data from conception to preservation in the library. An important part of this is making sure that the equipment and services available are approachable by students and researchers at all levels of knowledge and experience. The DSI will open with three 3D printers, housed in large, white, well-lit transparent enclosures that are temperature-controlled and air-filtered. Looking into one of these, I remarked that it looked like a high-end refrigerator or microwave—a very expensive kitchen appliance, as Kristy pointed out.
Later, the DSI will add 3D scanning capability to further support the 3D research lifecycle. To start with, Kristy says, it's easier to train new students on one piece of equipment rather than conduct parallel training with multiple technologies.
Starting in the fall, the DSI will have two fully trained students on hand at all times during open hours. These students will be available to answer questions about 3D printing and help users with trouble-shooting their prints. Anyone who is a UC Santa Cruz affiliate will be able to access and use the equipment—once they have been certified through library-provided training. Users can either bring their personal computers to prepare their files or use the computer that will be available for public use.
In contrast to the DSI, at the DSC in McHenry library, students can use the computers on their own or check out equipment, but training is only offered in class-specific workshops or during specific shifts. The DSC is geared more toward self-learning and integration into cou
rsework, which so far has been particularly of use for humanities classes. Kristy told me that there have been multiple mapping projects done using the digital exhibit expertise of the DSC staff, and that a social documentary class uses their facilities to view certain documentaries in 360 degrees. Class experiences include 360 recreations of a 6'x9' solitary confinement cell with inmates talking about their experiences of it (used to build empathy) as well as archaeologists' reconstructions of Egyptian temples that you can view using virtual reality technology. At one point, she says, you actually have to duck to get into a narrow passage.
With these examples in mind, Kristy stressed to me that the DSI is an innovation studio, aimed at a wider audience of users than just technology and STEM-oriented disciplines. She underscored this message by pulling out some examples of 3D prints including custom terrain prints of the campus as well as deceptively simple rolling toys made from geometric shapes. A human hand could never carve a perfect parabola well enough for it to roll in a straight line, for example, but for a student with the right training and digital tools, it's no problem.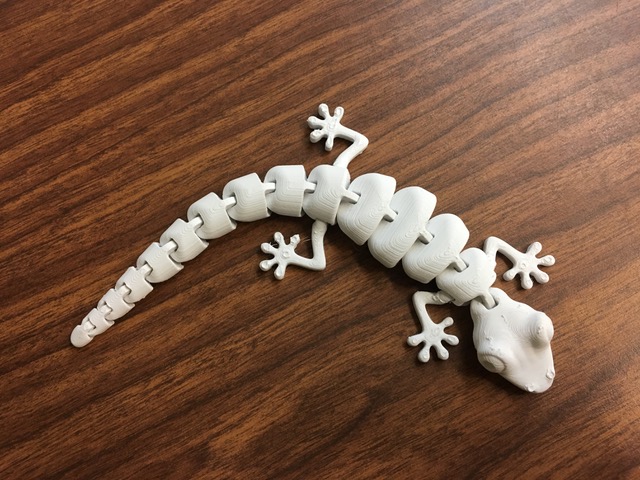 My favorite example, however, was the fully articulated lizard that Kristy (wisely) saved for last. It moved very much like a real lizard, with gradually smaller interlocking joints formulating its mobile backbone. Most amazing is that it required no assembly—the printer simply built each interlocking joint in place, building up two circles around each other layer by layer until complete.
Talking to Kristy and seeing these objects seemingly created out of the ether made me feel like I was in Star Trek. This technology would've been so far out of my reality during my own time at UC Santa Cruz, but now it is available to anyone who is willing to get some very basic training. Donors like Peter and Jim, who helped make this innovation space possible, are truly—and literally—shaping the future by supporting programs like the DSI. I can't wait to see what innovations emerge from this space in the years to come.
Science & Engineering Library renovation update

In March 2018, the University Library received a $5 million gift from an anonymous donor to renovate the top floor of the Science & Engineering Library. The floor will be named in honor of Professor Emerita of Astronomy and Astrophysics Sandra Faber, one of the campus's most distinguished scholars.
The renovation is underway and the third floor of the Science & Engineering Library is closed through fall quarter.  Old furniture has been removed. Old carpet will soon be removed and recycled. Mechanical systems are being inspected and cleaned ahead of the replacement of two HVACs. Soon new ventilation and plumbing will be installed to support two new non-gendered bathrooms. We are projecting that by early January 2020 our new, vibrant third floor will open! The new floor will provide a safe, attractive, comfortable, and convenient study environment designed to support academic success. The renovated space will be quieter, better ventilated, and much better equipped with AC/USB power in seating areas. The renovation will create seating for more library patrons, and provide separate zones for focused, quiet study, and small group collaboration.
Songs of Labor & Transcendence: The Trianon Press Archive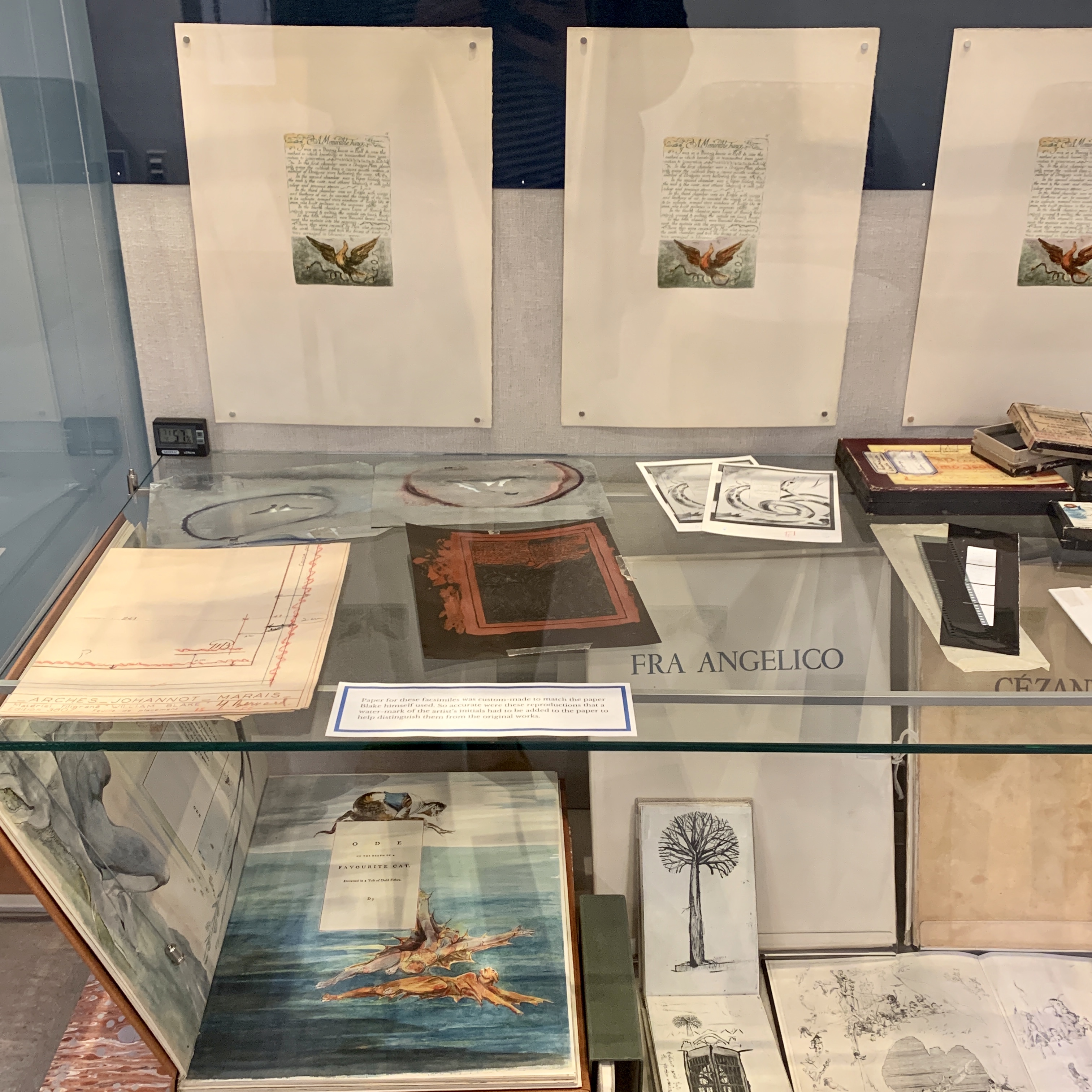 Songs of Labor & Transcendence is the newest exhibit curated by the Fellows of the Elisabeth Remak-Honnef Center for Archival Research and Training (CART). This exhibit showcases the history, printing processes, and publications of the Trianon Press, a publisher of art and fine-press books that operated from the 1940s to the 1980s in France. The Press was most known for its close relationship with the William Blake Trust and its production of fine facsimiles of Blake's illuminated works, and also produced publications by several renowned artists of the time. Jessica Calvanico, Morgan Gates, Hannah Newburn, and Nicholas Whittington worked collaboratively to plan the overarching themes and narrative, write contextualizing text, select items, and install the exhibit after working throughout this past year to process nearly 500 boxes of the Trianon Press Archive.
Be sure to view the CART Fellows' digital companion exhibit that traces the life and work of Trianon's director, Arnold Fawcus, and the dozens of publications produced by Trianon. The Trianon Press Archive is now fully available for research in the Special Collections & Archives Reading Room, and the collection guide is available online.
4 June - 4 November 2019
2019 Library Student Graduates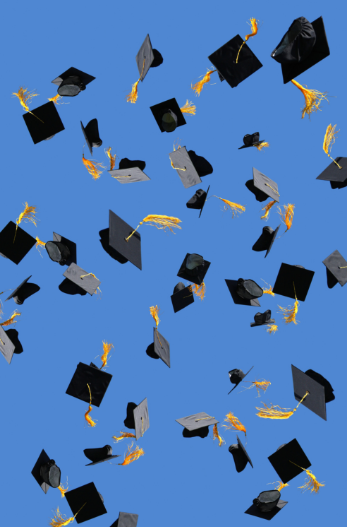 In June, we said thank you and congratulations to many library student employees as they graduated from UC Santa Cruz. We are very fortunate to have so many talented students helping to keep the library running! We would like to take a moment to honor our Spring 2019 graduates.

Circulation: Andrew Ybarra Gonzalez, Celeste Mikayl Gunasekara, Nancy Palmerin, Cody John Rukasin, Sheri Vanbilliard Walpert, Giovanni Uriostegui Vega
Collection Maintenance: Jeet Kaur, Thomas Zetino, Nelson Chan, Toby Kwan, Khoa Dinh
Development: Zoe Anna McPheron
Digital Initiatives: Noah John Lyman, Flor Vanessa Maciel, Sean P. MacNaughton, Madison Di Moxle-Fuentes, Oliver Samuel Stoops, Ashley Rose Tacheira, Isabella (Bella) Kressman
Digital Scholarship Commons: Reed Daniel Scriven
Roving Student: Rennea Howell
InterLibrary Loan: Lindsay Marie Alahakoon
Operations: Roxanna Diaz
Reserves & Media: Sandy A. Alegria-Hernandez, Matthew Nicholas Carrillo, Grace Kyung-Wha Chung, Yvette Young Kim, Madeleine Palesa King, Andrea Lemus Noyola
Special Collections: Elena Marie Denoia, Rebecca Susan Rapp
Credits:
Contributors: Elizabeth Cowell, Zoe Quinton and Alix Norton
Production: Linda Hunt
Copyediting: Greg Careaga
Photography: Linda Hunt, Stephen Loius Marino, and Carolyn Lagattuta
"It's good to be home" photos courtesy of Kathy Rose