The Martina Castro Lodge Family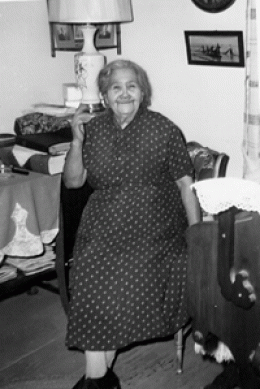 Carrie Lodge
Lodge, Carrie (1881-1979)
For the complete text of The Martina Castro Lodge Family
(E-Scholarship) Includes complete audio (streaming or download) for the oral history. Note: Due to editing by the narrator and the Project, there may be minor differences between the audio recording and the transcript. Please quote from the transcript as the record and not the audio. Audio will be found under "Supporting Material."
1965, xi, 104 pp., 2 illus., 1 map
Photo: Carrie Electra Lodge in her living room, April 19, 1965
Lodge was the granddaughter of Martina Castro Lodge, holder of the largest Mexican land grant in Santa Cruz County and descendant of Isidro Castro who came to California as a soldier with the de Anza Party in 1776. Lodge related a number of stories about her grandmother handed down in the family; she also described incidents in the life of her father, Michael Lodge II, who lived from 1838-1931. Some of her comments about her own childhood provided details of family life in the 1880s and '90s.