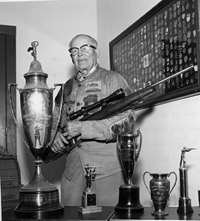 Paul Johnston
Paul Johnston: Aptos and the Mid-County Santa Cruz Area from the 1890s through World War II
Photo: Paul D. Johnston, April 1966
For the complete text [PDF] of Aptos and the Mid-County Santa Cruz Area from the 1890s through World War II (E-Scholarship) Includes complete audio (streaming or download) for the oral history. Note: Due to editing by the narrator and the Project, there may be minor differences between the audio recording and the transcript. Please quote from the transcript as the record and not the audio. Audio will be found under "Supporting Material."
1973, xiv, 228 pp., 8 illus.
A longtime Aptos resident who spent part of his youth in Soquel, Mr. Johnston began his interview with descriptions of turn-of- the-century Capitola, the Soquel paper mill, and the mid-county fruit industry. He then discussed the history and economy of the old village of Aptos-- its businesses, school, roads, water supply, and volunteer fire department, of which he was long an active member. He also described the men who were the large landowners in the mid-county at that time and the coming of the modern real estate developers, specifically the creation of Rio Del Mar and Seacliff. In the latter part of the manuscript he described the rum-running and mountain stills of the Prohibition era, while the concluding chapters were devoted to World War II, particularly the Civil Defense efforts in the County during those years.