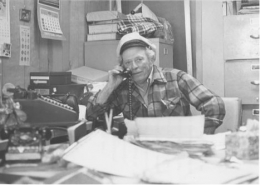 Malio Stagnaro: The Santa Cruz Genovese
For the complete text [PDF] of The Santa Cruz Genovese (E-Scholarship) Includes complete audio (streaming or download) for the oral history. Note: Due to editing by the narrator and the Project, there may be minor differences between the audio recording and the transcript. Please quote from the transcript as the record and not the audio. Audio will be found under "Supporting Material."
1975, xviii, 445 pp., 9 illus.
Mr. Stagnaro's father, a native of Genoa, Italy, arrived in Santa Cruz in 1874 and began commercial fishing. Toward the end of the century he brought his family and relatives to Santa Cruz, and they in turn encouraged others to come; eventually sixty Genovese families comprised the Santa Cruz fishing fleet. His son, Malio, headed the C. Stagnaro Fishing Corporation's various operations (two restaurants, deep-sea fishing trips, and an excursion boat) and was widely regarded as the "mayor" of the wharf. In this volume, Mr. Stagnaro discussed the arrival of the Genovese; the Italian life in Santa Cruz; the operations of the old fishing fleet; early methods for wholesaling and retailing fish; the changes in the tourist industry from 1900 to the present; the effects in Santa Cruz of Prohibition, the Depression, and World War II; the new Santa Cruz Yacht Harbor; and the post-war development of the family corporation.