Read the full text transcript (PDF) and listen to the audio of the oral history with Jim Cochran.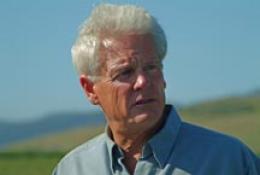 Jim Cochran. Photo by Tana Butler.
Jim Cochran was born in Carlsbad, California in 1947. He came to UC Santa Cruz in the late 1960s as an undergraduate student to study child development and 19th century European intellectual history. As a student at Merrill College (one of the UC Santa Cruz residential colleges), he lived up the hill from the Chadwick Garden (Student Garden Project) and admired the organic food and flowers grown on that steep hillside. After he graduated, Cochran took a job as an assistant to organizers of Co-op Campesina, a farm worker-owned production co-op in the Pajaro Valley, California. He later helped several farmer co-ops in Central California with marketing and financial planning. This shaped his future role as founder of Swanton Berry Farm, famous as the first certified organic farm in the United States to sign a labor contract with the United Farm Workers (UFW). Swanton Berry Farm offers their workers low income housing on site, health insurance, vacation and holiday pay, a pension, and other benefits including an employee stock ownership program. In 2006 Cochran received the Honoring Advocates for Social Justice in Sustainable Agriculture (Justie) Award from the Ecological Farming Association.
Cochran began Swanton Berry Farm in 1983 because he wanted to try to grow strawberries organically. He was the first (modern) commercial organic strawberry farmer in California, and in 1987 the California Certified Organic Farmers certified his farm. Cochran's methods became a resource for other organic strawberry growers, and in 2002, the U.S. Environmental Protection Agency awarded him the Stratospheric Ozone Protection Award for developing organic methods of growing strawberries that did not rely on the soil fumigant methyl bromide. A key component of Jim's success was his partnership with UC Santa Cruz agroecologists Steve Gliessman and Sean Swezey in on-farm research.
Travelers along the North Coast of Santa Cruz County visit the Swanton farm stand on Highway One, where they pick strawberries by the sea, and savor the fabulous jams, truffles, strawberry pies, scones and other treats concocted in the kitchen. When no one is minding the store, customers pay on the honor system, a lesson in trust that Cochran encourages. A photo exhibit documenting the agricultural history of Santa Cruz County and of the United Farm Workers is displayed above long comfortable tables where customers sip coffee supplied by the Community Agroecology Network.
Ever a visionary, Cochran joined the Roots of Change Council's Vivid Picture Project, which is "daring to dream up a comprehensive vision of a sustainable food system in California." He discusses all of these aspects of his career in this interview conducted by Ellen Farmer on December 10, 2007, at Swanton Berry Farm in Davenport, California.
Links: