News from University Librarian Elizabeth Cowell
The First Rip Was the Hardest.
An interview with Karolina Karlic, Associate Professor at UC Santa Cruz and founder of Unseen California, and Tarrah Krajnak, Associate Professor at Pitzer College and artist-researcher with Unseen California. 
Ingeborg Gerdes Photography Collection to be processed by a CART Fellow
A Special Visit to Dead Central
News from University Librarian Elizabeth Cowell
Dear friends, 
As I discussed in my last update, during the review process for our recent admission to the Association of Research Libraries, ARL applauded the fact that our special collections are well beyond the scope of what you'd expect for a campus of our size and relative youth. In their words, at UC Santa Cruz we "punch well above our weight." 
The best thing about the spectacular collections we've received to date is that they have reached a critical mass that continues to bring in new materials. At UC Santa Cruz, we increasingly focus on improving people's experience with our collections––on knowing what we have and how to process it, integrating it into our scholars' research, and optimizing our materials for accessibility and ease of use. 
To that end, in this issue of our quarterly newsletter we will be highlighting recent growth and activities in our special collections. In particular, we're very proud of our deep connection with the tradition of fine art photography in California, as reflected in this interview with Library friends Mary and Jim Alinder. The couple knew and worked with Ansel Adams for many years, and Mary Alinder later published a well-received biography of Adams. In the kind of full-circle story that I love about UC Santa Cruz, the Alinders' daughter, Jasmine Alinder, was recently appointed as our new Dean of the Humanities. 
In other photography news, last year the University Library received the collection of Ingeborg Gerdes, a lecturer of photography at UC Santa Cruz from 1981 until 2006. The collection includes 71 boxes of materials from Ingeborg's lifetime of work, produced over six decades and preserved in numerous formats, and will be processed as part of the Center for Archival Research and Training (CART) program in the coming academic year. 
The CART program is a great example of how we use these amazing collections in our efforts to support both faculty research as well as professional development for graduate students. CART fellows are hired and trained in archival processing, and they end their quarter-long fellowship by creating both a physical and a digital exhibit based on their work. They also present their projects at the graduate research symposium at the end of the year, giving them a portfolio with which to jumpstart their careers. To read more about the CART program, please visit their webpage. 
For deeper detail on how faculty at UC Santa Cruz incorporate Special Collections & Archives materials into their research and teaching, we spoke with Karolina Karlic, Associate Professor at UC Santa Cruz and founder of Unseen California, "a multi-faceted initiative whose goal is to engage the public land of California as an outdoor artist studio and classroom laboratory by inviting artists to collaborate in research and create site-specific art," and Tarrah Krajnak, Associate Professor at Pitzer College and artist-researcher with Unseen California. 
In their interview, Professor Karlic says, "I created this course to introduce our Art students to research methods in the archives and to think about what an artist, a creative using their imagination, can do after they engage with an archive, and to think about how they can imagine a future archive." In this way, professors and creators like Professors Karlic and Krajnak demonstrate how our archives can be used to inspire both their own research and that of future generations of artists and researchers. 
Last but not least, this issue features an article on a visit to Dead Central last month by Bill Monning, recently retired Majority Leader of the California State Senate. Himself a renowned Deadhead, Chancellor Larive and I were proud to present Senator Monning with a framed poster to honor his retirement. 
To me, Senator Monning's visit demonstrates the true depth and breadth of our archives' appeal. We not only treasure collections like the Grateful Dead Archive and the photography archives mentioned above; we work to process and display these materials in a way that will reach enthusiasts and scholars from all walks of life.
I hope you will join me in applauding the hard work of our Special Collections & Archives team here at the Library, and I look forward to providing you with future updates on the growth of our collections and the amazing ways in which they're used and appreciated. 
Until then, continue to be safe and well, and thank you for supporting our Library. 
Sincerely, 
Elizabeth Cowell
Richard L. Press University
LibrarianPresidential Chair
The First Rip Was the Hardest.
Interview by Joop Rubens
Library friends and parents of Dean of Humanities, Jasmine Alinder,  Mary and Jim Alinder, worked closely with Ansel Adams for years. We had a chance to talk with them about the experience of working with the renowned artist who loved the natural beauty of our campus.
Mary and Jim first met Ansel Adams at a workshop on Group f.64 at the University of Oregon in 1967. Several years later, Jim was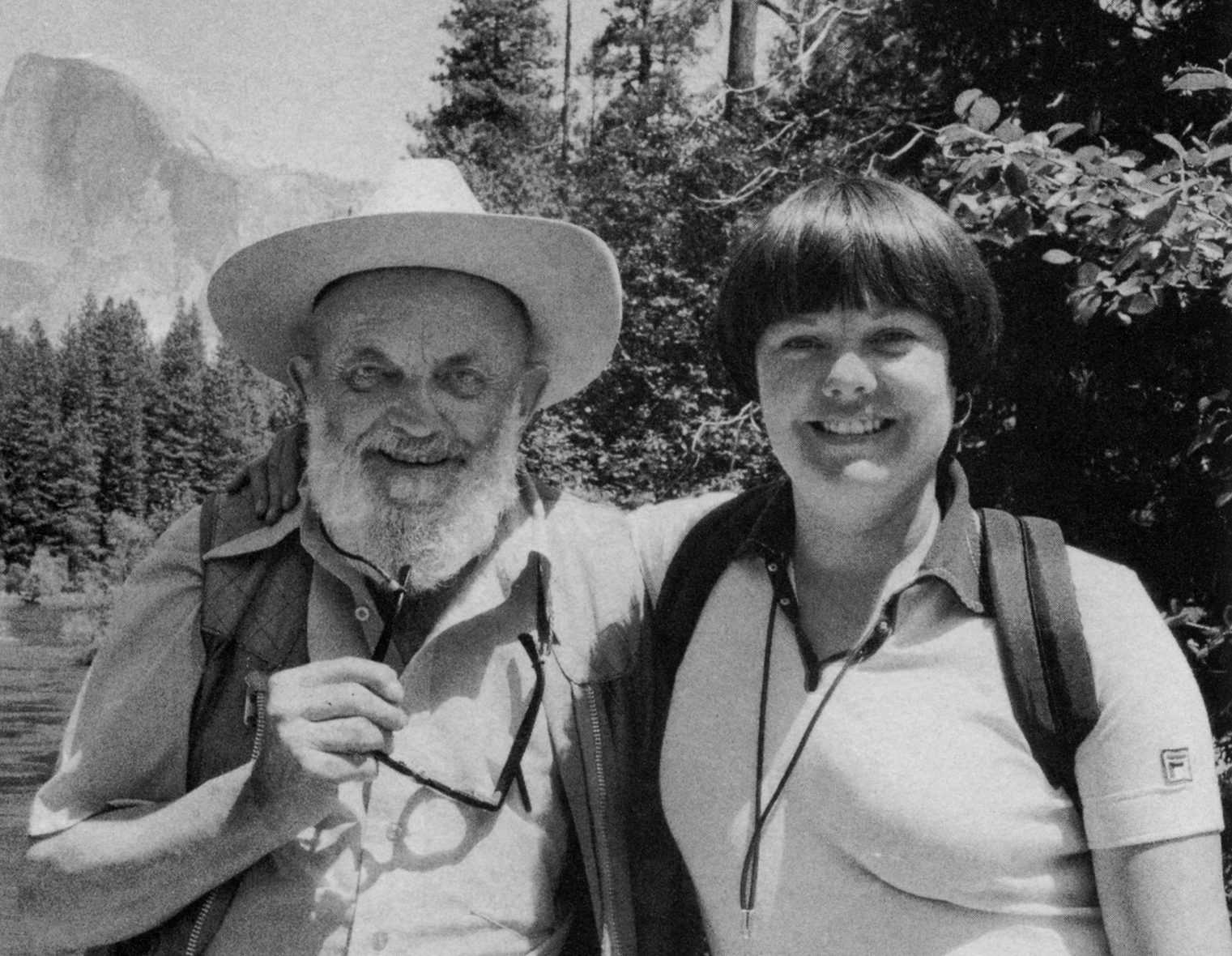 the head of the Society for Photographic Education and the editor of its journal. Jim approached Ansel and asked him to write an article for the journal. This connection led to Ansel requesting Jim to jury a photography show in Carmel. It also led to a long and mutually respectful relationship.
The year of the photography show in Carmel, 1974, Jim was an Associate Professor of photography at the University of Nebraska. He was on sabbatical, and the couple had taken their three small children on the road to see and photograph America. Driving cross country in a motorhome in the midst of a gas crisis was a challenge. Long lines at the gas stations made the trip hard. But eventually they made it to Carmel.
After jurying, Ansel invited Jim, Mary and their three children for a drink at his home. From the moment the door opened, both Ansel and Virginia warmly welcomed the Alinder family. It was to be the start of a special friendship. An unforgettable moment that night was when Ansel suggested that, instead of accepting payment for jurying the photography show, the couple was welcome to select any one of his prints. It was an easy choice for Mary and Jim. They had both attended school at the University of New Mexico, where the museum had a print of their favorite photo Moonrise, Hernandez, New Mexico. They chose Moonrise, which by now is a well-known black-and-white photograph by Ansel Adams. The photo was taken in the late afternoon on November 1, 1941 from a shoulder of highway US 84 / US 285 in the unincorporated community of Hernandez, New Mexico. To this day, Moonrise proudly hangs in Mary and Jim's living room.
From there on, the trust between the couple and Ansel grew strong. In 1977 Ansel called Jim and asked him to run Friends of Photography, a nonprofit organization started by Ansel and others in 1967. Its mission was to promote photography as fine art. Jim accepted the job and was instrumental in building Friends of Photography into a large and well-respected non-profit, a dynamic organization that had a tremendous impact on photography. The Friends held over 300 exhibitions at its galleries in Carmel and San Francisco, published a series of monographs, and taught thousands of students in its popular workshops. 
While Jim worked as the Executive Director, Mary was a Registered Nurse at the Community Hospital of the Monterey Peninsula. Before she was a nurse, Mary earned a degree in English and edited the university literary magazine. The family's friendship with Ansel Adams grew and the mutual confidence that was built eventually led to Mary being asked to become the personal assistant to Ansel. He needed an editor but was thrilled that he would also have his own private nurse.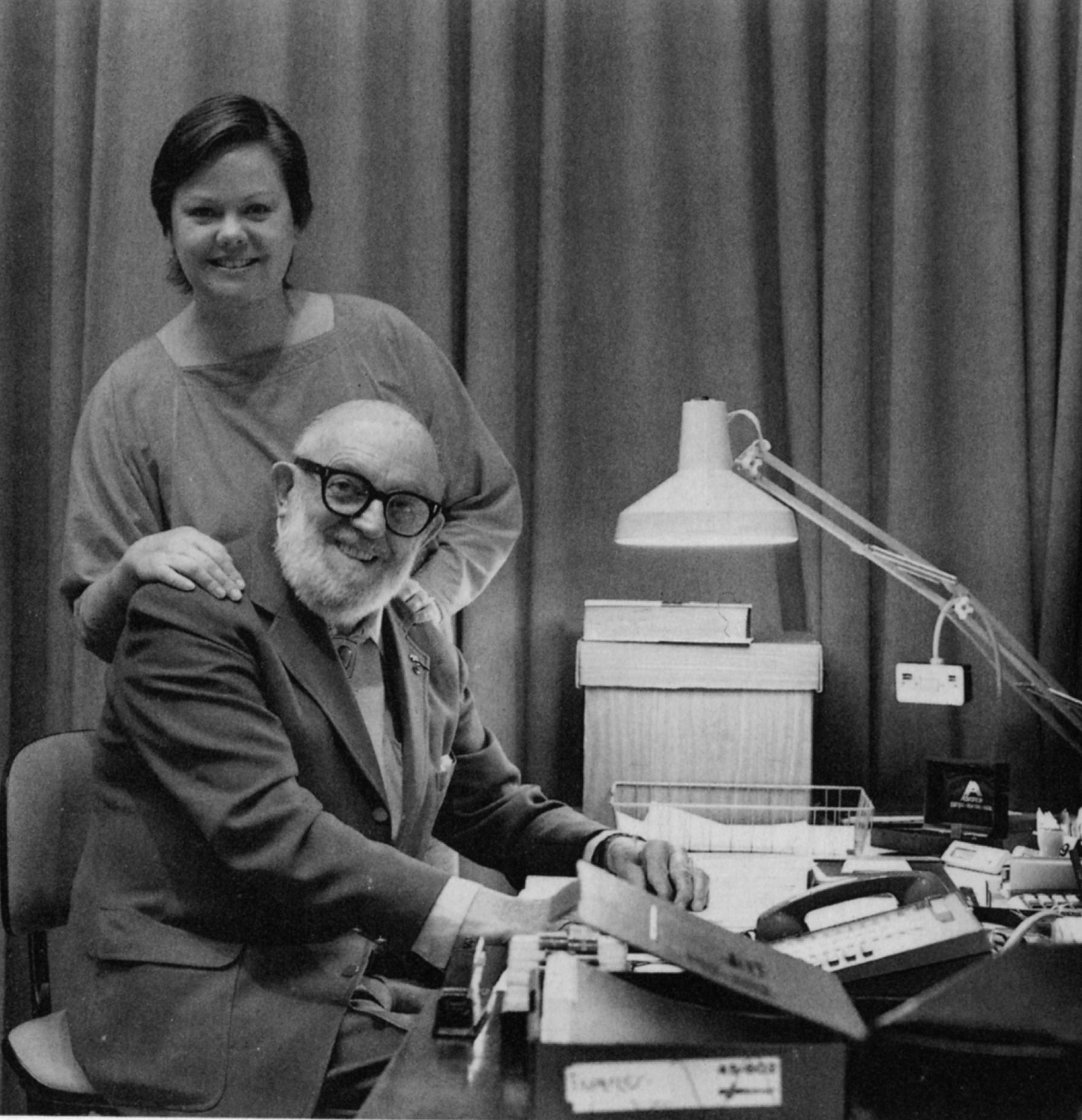 Ansel had a special bond with Mary and would refer to her as "little mother of all". She was hired to help him move forward on a few projects in particular. One project was Ansel's autobiography. Ever the perfectionist, Ansel had never missed a deadline. Yet he had postponed writing his autobiography, and was overdue on that project. Mary was tasked with ensuring that he finish his autobiography, a project he dreaded because of his strong focus on the art of photography and his reluctance to emphasize the story of his own personal life.
At this time Ansel's photographs were selling for quite a lot of money. Mary remembers one of her first projects very well. Ansel had just finished printing Moonrise, which was selling for over $10,000 on the market. One day, he brought Mary a pile of the Moonrise prints that had taken him weeks to make and asked her to go through them with a critical eye and destroy the prints that fell short. He explained in detail what he wanted to achieve in the prints, as well as the interpretation of every print in the darkroom. Moonrise, in particular, is a very hard negative to print. The final product turns what is a daylight photograph into an image that portrays the beauty of the night by depicting a moon rising over snowy mountains and a typical New Mexican scene. Mary had been working on selecting the prints for hours but had not been able to destroy a single print when Ansel decided to explain: "Mary, history will judge me by these prints. If I allow prints that are below my standards, it will haunt me. You are the only person who stands between me and my photographic reputation." It was a huge responsibility for Mary, but it taught her how to earn Ansel's trust. For years after she would be in charge of his quality control. To this day, Mary remembers the agony of destroying prints made by Ansel Adams. In her own words: "The first rip was the hardest."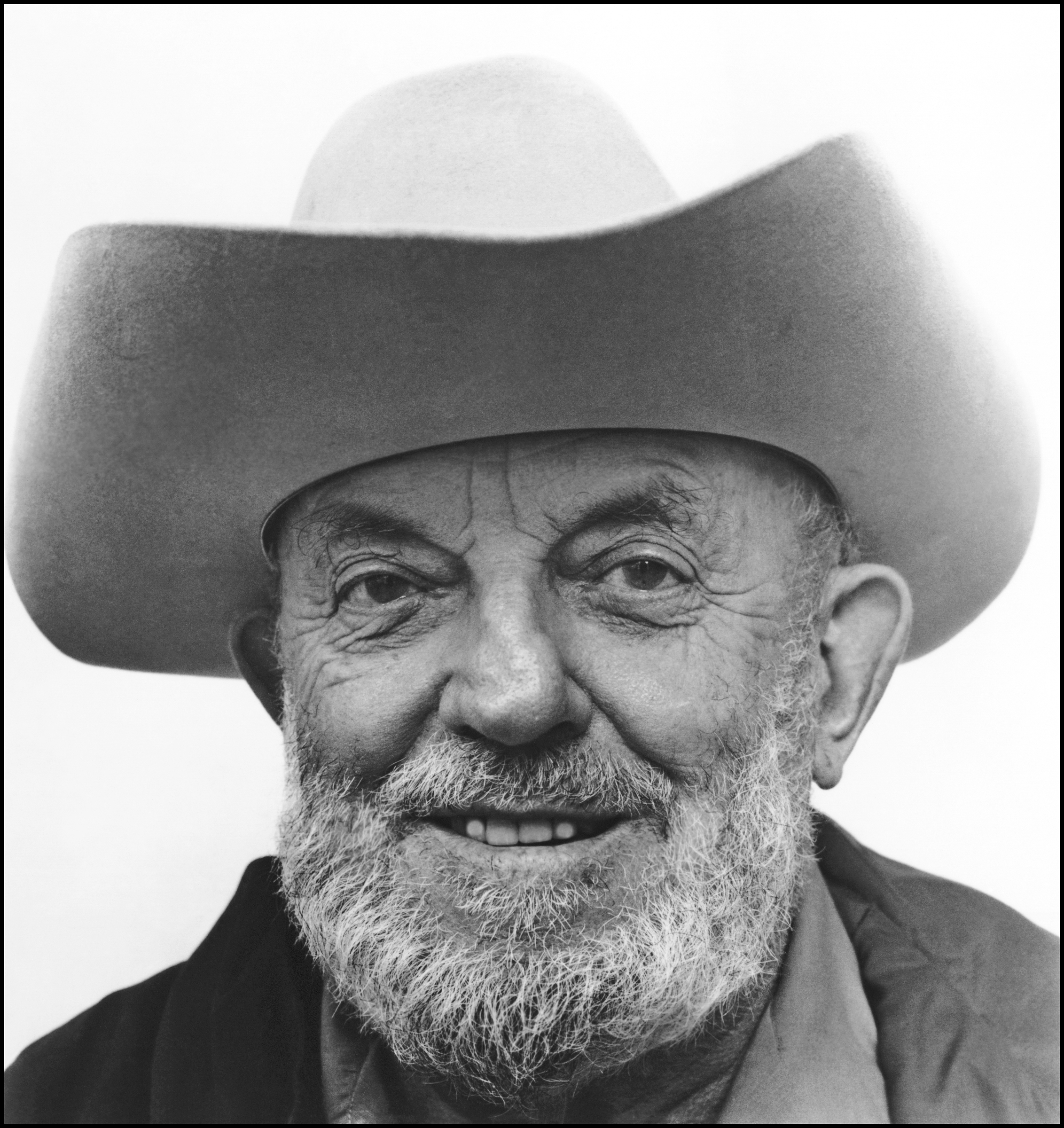 Mary and Jim describe their friend Ansel as a great world citizen; someone who understands that each of us has a responsibility to care for this planet. He believed that in each person there is a spark of genius and that everyone can find success, as long as they fan that flame. This conviction may have been in part why he respected the mission of the UC system and took on the Fiat Lux project.
In 1964 Ansel was commissioned by Clark Kerr to photograph the UC system. This work eventually resulted in a book entitled: Fiat Lux. Taken from Ansel Adams' oral history entitled "Conversations with Ansel Adams" the photographer states: "There was a reception at Dean McHenry's home at UC Santa Cruz, just at the beginning of the University (Santa Cruz Campus), and we were invited. Dr. Kerr, who was the UC President, met us at the door. Virginia, Nancy Newhall, and I. And he pointed at Nancy and me and he said 'You're going to do the centennial book on the University'"
The book documented the UC campuses throughout the State of California. UC Santa Cruz was being built and many of Ansel's photos depict landscapes before we had any of our colleges. In his oral history he makes it clear that he was not an admirer of the eventual architecture on our campus. By contrast, it was the redwoods and the spaciousness that spoke to him and inspired him deeply, especially compared to other UC campuses. And of course Ansel loved the coastline which the campus overlooks. Mary remembers numerous trips on Highway 1 to and from Carmel to San Francisco together, and has fun memories of stopping in Pescadero at Duarte's Tavern for artichoke soup and Olallieberry Pie, which Ansel loved.
The Alinders continued to wo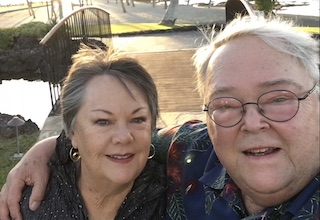 rk with Ansel for many years. Mary has written a wonderful book on his life and work, entitled: Ansel Adams - A Biography; a book the Los Angeles Times describes as "A loving, minutely researched portrait of the photographer that acknowledges his humanity while confirming his enormous artistic contribution." 
I want to sincerely thank Mary and Jim for their time and for their insights on one the most important photographers of our time.
An interview with Karolina Karlic, Associate Professor at UC Santa Cruz and founder of Unseen California, and Tarrah Krajnak, Associate Professor at Pitzer College and artist-researcher with Unseen California. 
Interview by Liz White
Please introduce yourself and tell us a bit about your work.
KK: 
I am Karolina Karlic, Associate Professor and Area Head of Photography at UC Santa Cruz.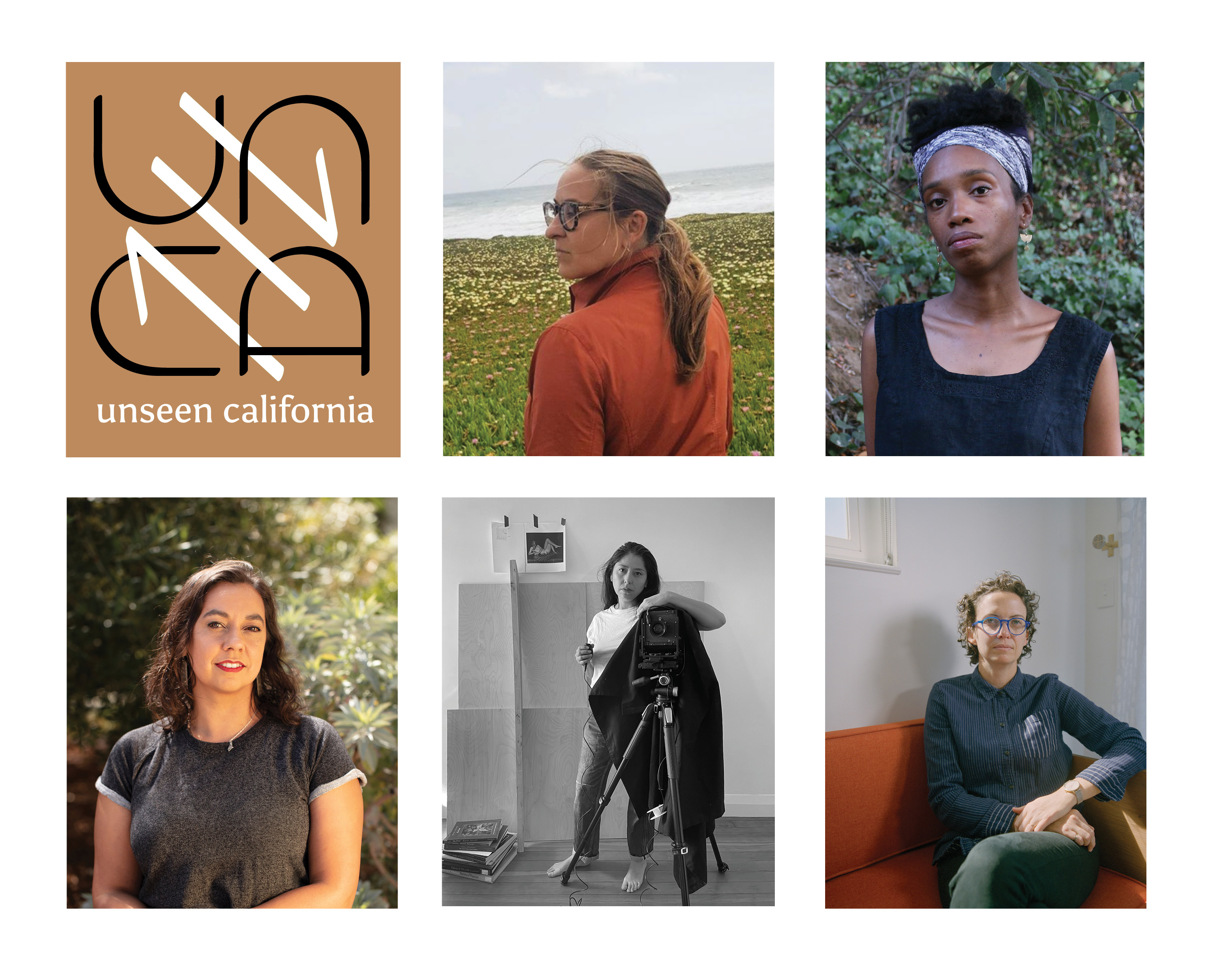 In 2021, I launched Unseen California with co-founder and cinematographer, CSULA Professor Joseph Gallegos, with the intent to create a multi-faceted initiative whose goal is to engage the public land of California as an outdoor artist studio and classroom laboratory by inviting artists to collaborate in research and create site-specific art. 
Five women artists, including myself, are taking part as the inaugural group of artist-researchers: Mercedes Dorame, Dionne Lee, Tarrah Krajnak, and Aspen Mays. The artists will collaborate with the archives, scientists, scholars, and local community members to conduct field study and to create new work that engages with the topics and themes that emerge from their research. Together on this journey we create our own new artworks set out to reframe California's cultural histories and ecological landscapes beyond the canonical perspectives. 
TK: 
My name is Tarrah Krajnak. I'm an artist and educator born in Lima, Peru, and currently based in Los Angeles. My work engages with intellectual and material histories ranging from the socio-political conditions of Lima, Peru in the late 1970's, to the legacy of modernist canons within the history of photography. 
Can you tell us a bit about "Landscape" Environmental Art in the medium of photography and how Unseen California fits into it?
KK: I designed the inaugural research cohort to be made up of five women artist photographers, all from diverse backgrounds, who are California arts educators and working professionals. As a general aesthetic category, landscapes have been pictured, portrayed, and even built upon by canonical artists, a vision of the land inherited. We aim to differentiate ourselves by proposing radically-alternative visions inclusive of diverse experiences. Central to our research team's ethos is a conviction that the arts can problem-solve the most urgent issues of our time with an understanding that this requires participation by all disciplines and sectors and the engagement of all society. Unseen California will give these cultural producers and artists opportunities to carve out novel conceptual and interdisciplinary approaches to propose new understandings of the pressing issues that face California's terrain, its ecological economies, its bio-cultural diversities, as we expand our concept(s) of what "Landscape" can be. 
TK: I don't necessarily think of myself as a "Landscape" photographer. I am more interested in the history of landscape photography particularly in the American west, and in using my body to create work that grapples with the legacies of modernist canons.
Why is Special Collections & Archives important to you and the students and how have you used SC&A in the past?
KK: Over the past six years at UCSC, I have been fortunate to collaborate with Special Collections & Archives in my teaching and my personal research. Now I'm able to extend these unique resources to world-renowned women artists from diverse backgrounds, through Unseen California's aim to create a "new'' photographic archive of the "West." 
I teach a course in the UCSC Art Department, which I named: "After Archives," and we engage directly with SC&A on-site and virtually using digital archives.  I created this course to introduce our Art students to research methods in the archives and to think about what an artist, a creative using their imagination, can do "after" they engage with an archive,  and to think about how they can imagine a future archive. I tell my students, "HIStory/HERstory/THEYstory is important, if only to reject it consciously or rebel against it". 
TK: Initially when I was in conversation with  Mark Readdie, Resident Director of Landels-Hill Big Creek Reserve, he asked if I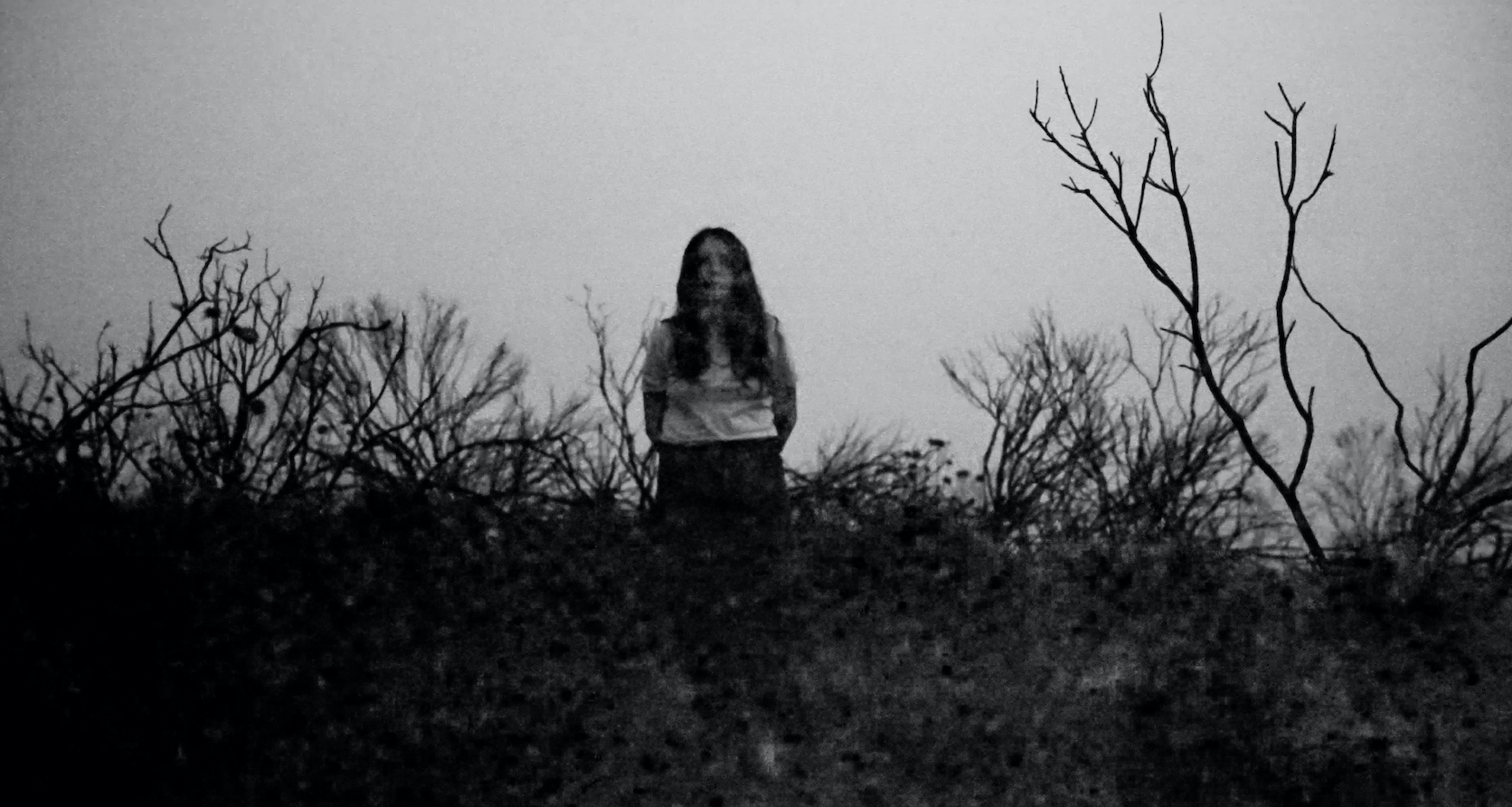 needed anything and I said no because I really had no idea what I was going to do on the Big Creek site. I found ONE reference to an inaugural speech Ansel Adams had made on the site in 1978, and I mentioned this in passing. I told Mark I really wish I could hear Adams delivering this speech. Well, as it turned out, Mark remembered hearing a recording of it on-site at Big Creek, and was able to help me locate the tape that had been digitized onto CD by the UCSC McHenry Special Collections librarians. The following month I made a trip up from Los Angeles to UCSC's Special Collections and was able to listen to it and have it digitized for my use. I have to say that this has become a central feature of my work, at Big Creek (Big Sur, CA). 
Who are some of the artists (in particular, photographers) who have most influenced your work?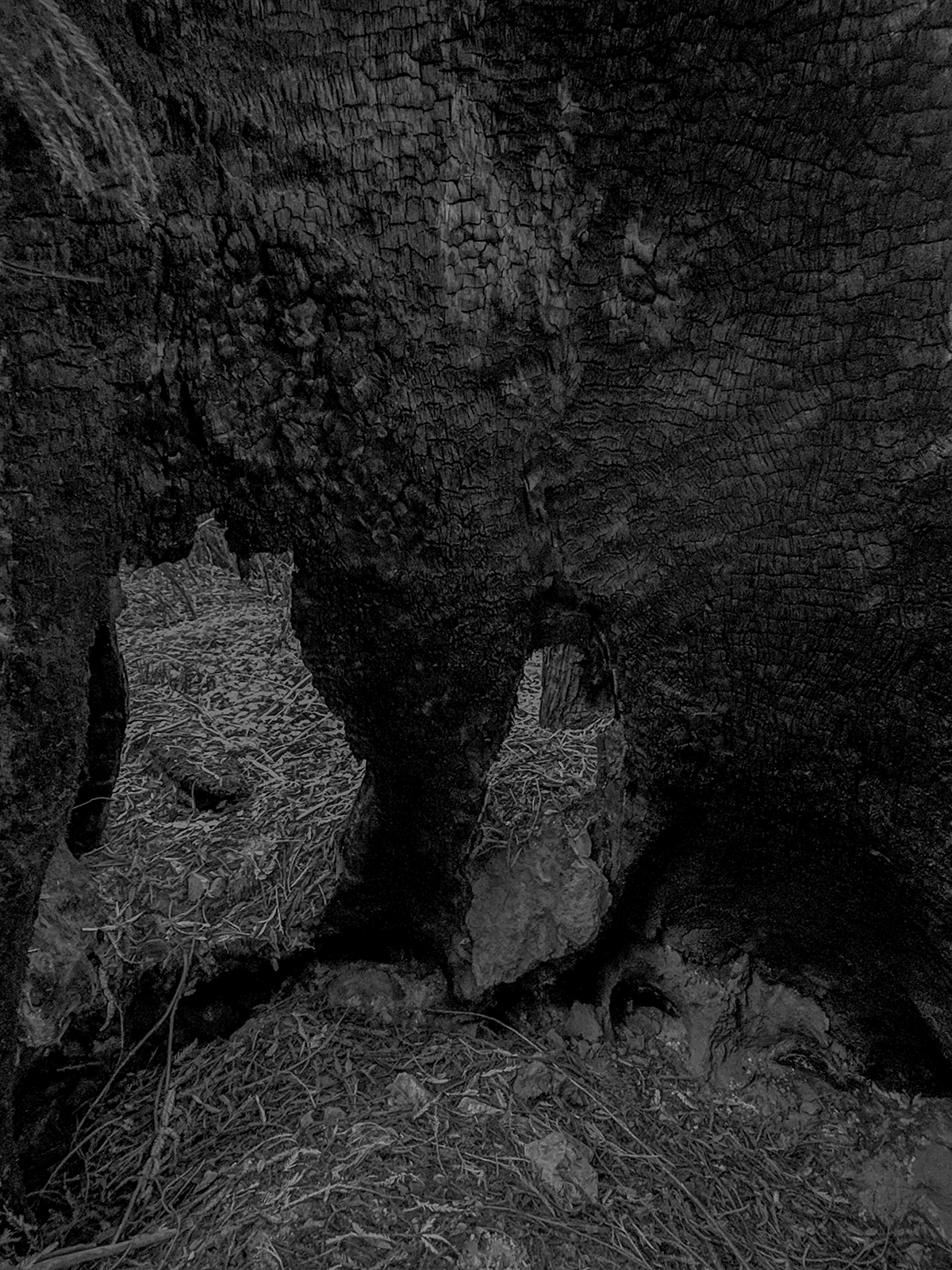 KK: My late mentor,  American photographer, writer, filmmaker, theorist and critic, Allan Sekula, has had a continued impact on the way that I use documentary photography and archives in my research.  My own work has long been dedicated to telling the stories of social and environmental landscapes that have been affected by the post-modernization of the industrial world. I am interested in depicting the forms human activity takes, and their outcomes, whether that be about cars in Detroit or rubber producing plantations in Brazil.
TK: In my work with Unseen California I am thinking about Ansel Adams and Edward Weston in relation to larger issues related to the American experience—specifically the ruins of Modernism as I find them in the land and the photograph. However, the strategies I use in my practice stem more from eco-feminism, performance, and poetry. I draw influence from artists like Ana Mendieta, Cecilia Vacuna, Theresa Hak Kyung Cha, Sharon Hayes, Michelle Stuart, Agnes Denes, but I am equally interested in west coast conceptual approaches to the medium. I am thinking of photographers like Lewis Baltz or Bas Jan Ader.
Ingeborg Gerdes Photography Collection to be processed by a CART Fellow
By Alix Norton
In 2021, UC Santa Cruz Special Collections & Archives was gifted the extensive photograph collection of Ingeborg Gerdes, a photographer and educator born in Germany in 1938 who later moved to California. She taught photography at UC Santa Cruz from1981 until 2006, as well as at the San Francisco Art Institute, Stanford University, and Cabrillo College.
Ingeborg created photographs on her many travels, including across Mexico and several countries in Europe and Asia, and she developed a keen fascination for the American West in particular. She captured moments of everyday life from the Mission District of San Francisco to Berlin, Germany, and participated in photographic survey projects supported by the National Endowment for the Arts in Baja California and Eastern Washington. It's clear that California was a favorite subject of hers, with her admiration seen in series like San Francisco in the '70s, Golden Gate Fields, Mission District, and East Bay.
The collection contains 71 boxes of Ingeborg's life's work in photography, spanning six decades and numerous formats, including exhibition and work prints, color and black & white negatives, slides, contact sheets, and some digital files. Ingeborg started making photographs in the 1960s and continued up until her passing in 2020, mostly shooting digitally in the later years of her life. In addition to the wonderful photographs, the collection also contains Ingeborg's teaching files and student work, press about her art shows, correspondence, notebooks, and printing records showing her photographic process. 
For one quarter during the 2022-2023 academic year, one graduate fellow in the Center for Archival Research and Training (CART) will re-house, preserve, and describe the 71 boxes of the photographs and papers, following the artist's original organization of her own work. They will work closely with the CART Archivist to dive into Ingeborg's work, learn about archival processing techniques, and find the best way to preserve and provide access to her collection, ultimately creating a public collection guide where researchers can request items for use in the Special Collections Reading Room. In the Spring of 2023, the CART fellow will curate a physical exhibition of Ingeborg's work in the Third Floor Gallery of McHenry Library. 
For more information and examples of Ingeborg Gerdes' work, visit ingeborggerdes.com.
For more information about the Center for Archival Research and Training at UCSC, please visit guides.library.ucsc.edu/cart.
A Special Visit to Dead Central
Earlier this month, Bill Monning—featured in our 2020 Grateful Dead Impact Report—finally had the opportunity to visit Dead Central at McHenry Library to see the latest exhibit, When We Paint Our Masterpiece: The Art of the Grateful Dead Community.
Bill recently retired from the California Senate, and being the Deadhead he is, we honored his retirement with a framed poster presented to him by Chancellor Cindy Larive and University Librarian Elizabeth Cowell.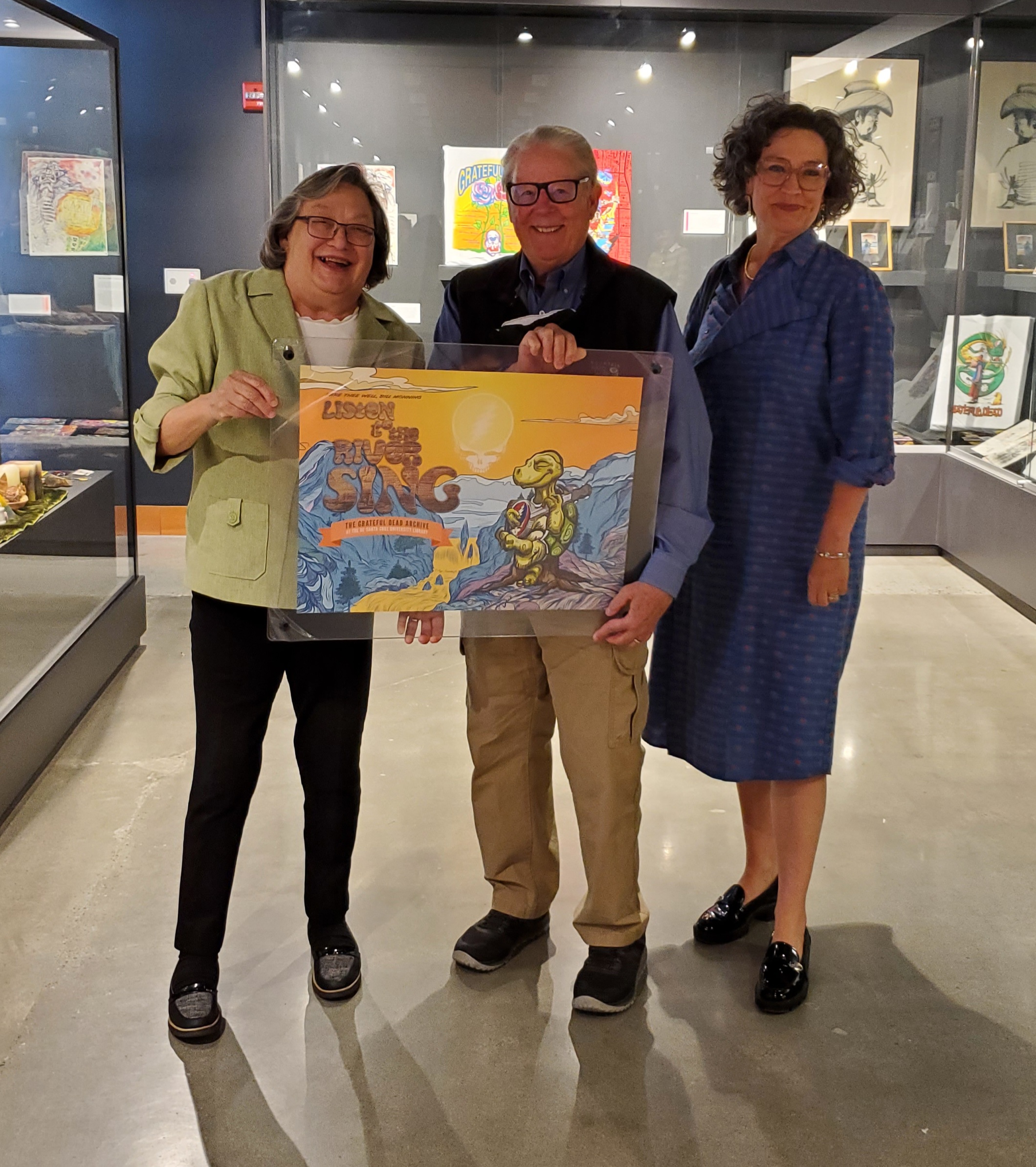 Credits:
Contributors: Elizabeth Cowell, Joop Rubens, Liz White, Linda Hunt, Alix Norton, and Zoe Quinton 
Production: Linda Hunt
Copyediting: Greg Careaga
Photography: Jim Alinder, Tom Zito, Tarrah Krajnak, Ingeborg Gerdes, Joop Rubens, and Linda Hunt
The First Rip Was the Hardest.
Mary Alinder and Ansel Adams in Yosemite by Tom Zito
Ansel Adams and Mary Alinder working on the autobiography, photo by Jim Alinder
Ansel Adams in stetson by Jim Alinder, 1984
Unseen California: a new photographic archive of "the West"
Unseen California's first research cohort.   Karolina Karlic, Dionne Lee  Mercedes Dorame, Tarrah Krajnak, Aspen Mays
Here Remains Standing Forever Nothing, Landels-Hill Big Creek Reserve Big Sur (October  2021/April 1978), Video Still from Single Channel Video, Sound, BW, 3:00, 2022. by Tarrah Krajnak
Redwoods (Regrowth 2) Landels-Hill Big Creek Reserve Big Sur, October 2021, Silver Gelatin  Print, 202 by Tarrah Krajnak