Scott Roseman: Owner, New Leaf Community Markets
Read the full text transcript (PDF) of the oral history with Scott Roseman.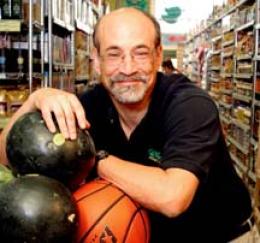 Scott Roseman was born in New York City and grew up on Long Island. He came to Santa Cruz in 1977 to study sociology at UC Santa Cruz. While he was a student, he joined Our Neighborhood Food Co-op, located on the Westside of Santa Cruz. After graduation, Roseman worked for the Alternative Energy Co-op, an organization devoted to renewable energy technologies. It was there in 1979 that Irene Reti, who conducted this oral history, first met Roseman while she was an undergraduate student at UCSC doing an internship in alternative energy systems. After the Reagan administration withdrew government funding for solar energy, Roseman took a position as a floor manager at Our Neighborhood Food Co-op.
In this interview, conducted on February 20, 2008, at Roseman's house in Santa Cruz, he described the evolution of the co-op into the Westside Community Market in 1985, and eventually into New Leaf Community Markets, a chain of six stores. Four of the New Leaf stores are owned by Roseman and two other partners; the other two are owned by local resident Bob Locatelli.
New Leaf contributes up to ten percent of its profits annually to local nonprofit organizations. The business pioneered a sustainable-seafood labeling program named Fishwise, as well as many other marketing and educational innovations. Their newest location on the Westside, just around the corner from the original location of Our Neighborhood Co-op, opened in March 2009. As of this writing, New Leaf faces competition from two new Whole Foods stores sited only a few blocks away from two of their locations. Recorded at a key historic moment, this interview documents the corporatization and ongoing consolidation of the natural foods industry over the past twenty years.
Links: