Lyn Garling: Former UCSC Farm and Garden Apprentice Coordinator, Farmer, Entomologist
Read the full text transcript (PDF) and listen to the audio of the oral history with Lyn Garling.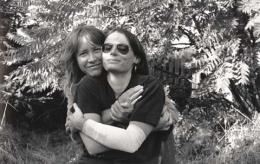 Lyn Garling was the apprentice coordinator for the UC Santa Cruz Agroecology Program (UC Santa Cruz Farm and Garden) from 1984 to 1992. Garling is an entomologist by profession, with a fierce passion for the insect world, ecological literacy, and human justice. Before she came to UC Santa Cruz, Garling taught ecology in Nicaragua after the Nicaraguan revolution, and conducted biological studies in Costa Rica and Mexico. At UC Santa Cruz, she designed and taught the first comprehensive science curriculum for the apprentice program, pushed the Farm and Garden to be more responsive to issues of class, race, and ethnic diversity, and managed the Farm and Garden's roadside and wholesale marketing, among other contributions.
After leaving UC Santa Cruz, Garling moved to Pennsylvania, where she became an education specialist for that state's Integrated Pest Management program, focusing on outreach to inner city residents at risk from exposure to toxic pesticides used in urban settings. In 1997, she began running her own organic farm, Over the Moon, specializing in chickens, turkeys, eggs, beef and pork. National Public Radio featured Garling in an October 2004 special on "Female Farmers: A Growing Trend in America." She is also quoted in a 2004 article in The Economist called "Women Farmers On the Move," and is one of the subjects of the award-winning film by Megan Thompson, Ladies of the Land: A Film About Growing.
Ellen Farmer conducted this interview (which covers not only Garling's work at the UC Santa Cruz Farm and Garden, but also her more recent activities) on October 7, 2007 over the telephone.
Links: