José Montenegro: Farm Operations Director, Rural Development Center
Read the full text transcript (PDF) and listen to the audio of the oral history with José Montenegro.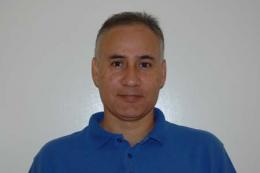 José Montenegro grew up in Providencia, a small farming community in the state of Durango, Mexico. As a child, he was troubled by the impoverishment of rural life in his community. He studied agronomy in Mexico in 1988, and despite sadness about leaving his homeland, decided to emigrate to the United States.
This oral history focuses on Montenegro's period as farm operations director of the organic farming training program at the Rural Development Center (RDC). Located on a 110-acre farm eight miles south of Salinas, the RDC was originally founded in 1985 by the Association for Community-Based Education (ACBE) of Washington, D.C. The RDC initiated a 'Farmworker to Farmer' program where agricultural workers received training that allowed for their advancement on the job, in farm management or possibly farm ownership.
In 2000, Montenegro left the RDC to begin Proyecto de Arraigo, a program that offers training and resources to farmers in rural Mexico. Meanwhile, the RDC transformed into the Agriculture & Land-Based Training Association (ALBA). Montenegro recently earned a master's degree in public policy from California State University, Monterey Bay, where he met Ellen Farmer (then also a graduate student in the program). Farmer conducted this interview in Salinas, California, on January 9, 2008.
Links: