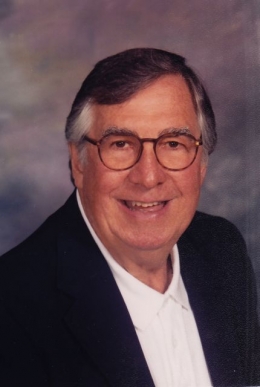 John C. DalyJohn Cardiff Daly (1926-2020)
112 pages, 2013, 1 illustration
Published in collaboration with Cowell College
For the complete transcript [PDF] of John C. Daly: A Life of Public Service in a Changing Santa Cruz, 1953-2013 [E-Scholarship]. The complete audio for this oral history is also available through the Supporting Material link on the bottom left of this page.
John C. Daly is a sixty-one year citizen of Santa Cruz, and as a doctor, a family man and a former mayor he has had a central vantage point on the process of evolution and change Santa Cruz has gone through. This oral history hinges on his perspective on and involvement in the development of Santa Cruz from the small, tight-knit city he moved to in '53 to the college town it is today, where there is a city population of ca. sixty thousand and a student population that exceeds seventeen thousand. However, the scope of the sessions  go beyond his public involvement in Santa Cruz to give a broader context of his life, including his childhood, his family, and his service in World War II.
Early in his career he took an opportunity to buy an existing practice in Santa Cruz, a quiet town centered on summer beach tourism. It essentially shut down for the rest of the year, leaving rents low and the businesses small. Variety came with its popularity as a convention locale, and the Miss California Pageant at the start of the summer. Daly relates the slow progress his business had in this context, which gave him time to get involved with public service organizations like the Junior Chamber of Commerce and the Salvation Army. A few years later, at the urging of local businessmen, he ran for the city council. A newspaper advertisement for his campaign advertised his priorities as establishing a "wider tax base," supporting "residents with fixed incomes," working on "governmental agency cooperation," an "improved storm drain system," and "municipal wharf modernization." He was elected and served one term as a councilman from '59 to '63, including a stint as mayor from '61-'62.
During those four years Daly helped support and initiate a series of key growth projects. In the late fifties and early sixties, Santa Cruz acquired the Sky Park Airport, constructed the yacht harbor, built the Loch Lomond Reservoir, oversaw downtown redevelopment, worked with a developer on a major international complex, and competed with San Jose for a University of California campus. The goal of all of this, Daly relates, was to make Santa Cruz into a "very desirable upper-middle class community with a great university," characterized by a thriving business and convention culture. The international complex, for instance, was designed by the lead disciple of Frank Lloyd Wright and featured a glass pyramid hotel, a series of 'courts' showcasing the goods and products of foreign countries, and a concert hall that would show primarily non-domestic acts, speakers and films. The plans were put on display at New York's Metropolitan Museum of Art. The developer estimated it would grow to have two million visitors a year. Just up the hill, the proposed UC campus was to grow to twenty seven thousand, five hundred students by 1990. Daly thought it was perfect. The town was busy in the summer, when many students were away, and then during the off-seasons there would be a robust student presence to fill the town and fuel business.
While the Court never came into being due to funding issues, during John's tenure as mayor the UC Regents unexpectedly settled on Santa Cruz as the site for their new campus. It was the culmination of protracted outreach efforts by the city, spearheaded by public officials like Daly. He was thrilled, expecting a wave of well-funded young people in sun tan pants and plaid skirts and bobby socks, like he and his fellow students dressed during his time at Berkeley. However, in the long run the university proved to not conform to these expectations. In these interviews he relates how the students increasingly became politically radicalized in the late sixties and seventies, and began to dress more casually and messily. To compound this trend, the Twenty-Sixth Amendment lowered the voting age to eighteen in '71, and Governor Jerry Brown signed a law that made it easier for students to register to vote in their adopted college communities.
The political landscape of the town gradually shifted under these factors. The professional, business culture dominant in the city in the fifties and early sixties was challenged by what Daly terms "no-growthers:" people who were (and are) consistently opposed to development on personal, environmental and political grounds. During Daly's time on the council issues like building the Loch Lomond Reservoir were matter of course, and did not face significant opposition. During the seventies, however an attempt to build another dam, the Zayante Dam, was killed. A second effort to build a convention center at Lighthouse Point, where the Court of the Seven Seas was to have stood, was defeated by popular vote and a major public campaign. Since the sixties and seventies there have been almost no new hotels, and convention business has become marginal. In the eighties the Miss California Pageant relocated after years of protest, and the city council has become the site of increased political conflict. Today Daly feels that the town has been held back in significant and damaging ways by this shift towards a "no-growth" attitude.
On personal and professional notes, Daly reflects at length about other challenges he and the city have faced, including the Flood of '55 and the Quake of '89. He discusses the damage, and how the town recovered from those two disasters. More intimately, he reflects on how Santa Cruz has been as a place to raise a family, and for his practice. He discusses the pros and cons of having the UC, including the prestige it has brought the town, and closes with a retrospective and prospective on his own life. He talks about what has been meaningful to him, and returns to dwell on the transformative power education has had for him and his family.