Jo Ann Baumgartner & Sam Earnshaw
Read the transcript and listen to the audio of Jo Ann Baumgartner & Sam Earnshaw: Organizers and Farmers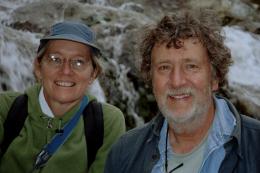 Jo Ann Baumgartner directs the Wild Farm Alliance, based in Watsonville, California. WFA's mission, as described on the organization's website, is "to promote agriculture that helps to protect and restore wild Nature." Through research, publications, presentations, events, policy work, and consulting, the organization works to "connect food systems with ecosystems."
    Sam Earnshaw is Central Coast regional coordinator of the Community Alliance with Family Farmers. Working with CAFF's farmscaping program, he helps farmers plant hedgerows and create grass waterways, improving production while increasing biodiversity and wildlife habitat on their lands. In 2009 Earnshaw was awarded the North American Pollinator Protection Campaign's Pollinator Advocate Award as part of an international effort to promote public awareness of bees, bats, butterflies, beetles, and other animals that enable the reproduction of over seventy-five percent of flowering plants. In 2008 Earnshaw and Baumgartner received the Stewards of Sustainable Agriculture (Sustie) award from the Ecological Farming Association.
    Baumgartner and Earnshaw met in the early 1980s while working on a five-year research project using reclaimed wastewater for crop irrigation in the Salinas Valley. Alarmed by the toxicity of the conventional agricultural environment, the couple became interested in organic production; when they left the research project in the mid-1980s, they started their own organic Neptune Farms, in Santa Cruz County. During this period they were involved with the development of California Certified Organic Farmers (CCOF) and with the early days of the Ecological Farming Association (EFA). In the early 1990s, Earnshaw began working for CAFF's predecessor, California Action Network, with its newly founded Lighthouse Farm Network, organizing breakfasts for farmers to share ideas and strategies for sustainable production. In the mid-to-late 1990s, Earnshaw and Baumgartner both worked with the Campaign to Save Pajaro Valley Farmlands and Wetlands, ultimately creating a 25-year urban growth boundary in the area.
    Sarah Rabkin conducted this interview with Baumgartner and Earnshaw at the WFA offices on Monday, May 18, 2009. At the time, both were giving considerable attention to issues related to food safety—a pressing concern in the wake of recent events. In the fall of 2006, an outbreak of food-borne illness caused by the pathogen E. coli 0157:H7 had sickened about 200 people and killed three; the outbreak was traced to bagged fresh spinach grown in San Benito County. Industry and government leaders were calling for the elimination of farm hedgerows and other non-crop vegetation in order to create "clean" or "sterile" growing environments, despite compelling evidence that the pathogen originated elsewhere. Baumgartner and Earnshaw were working hard to educate farmers, industry and government representatives, and the general public—explaining the benefits of farm biodiversity for soil and water conservation and ecological health, and promoting best practices for keeping the food supply safe.
Links: