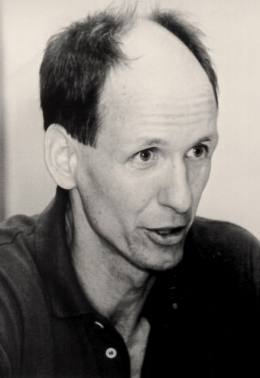 James Clifford. Photo: André TellesFor the complete text [PDF] James Clifford: Tradition and Transformation at UC Santa Cruz (Escholarship version)
124 pages
2013
Interviewed and Edited by Cameron Vanderscoff
James Clifford came to UCSC in 1978, and was one of two new appointments in UCSC's History of Consciousness Program, which were the result of the first effort to structure the program with full-time, dedicated faculty. His knowledge of Michel Foucault and other figures of 'French theory,' acquired during his time in Paris doing dissertation research, proved to be an important common ground between Clifford and his new senior colleague, Hayden White, and in the structuring of histcon that they undertook together. They were charged with infusing the "fundamentally anarchic" program with a sense of ballast, foundation and direction.
The program in time developed a cadre of dedicated and renowned faculty, and a contingent of graduate students who were exceptional for their creativity, their self-direction, and in many cases their political activism. Histcon became extremely successful, with an extraordinarily high figure of eighty-five to ninety percent of graduates getting placed in tenure-track or postdoctoral positions. The program's interdisciplinary scope, with students engaged in wide array of topics that were too expansive/transgressive for many more traditional departments, earned it an international reputation as a place for cutting edge work.
Beyond histcon, in these sessions Clifford considers his role as the founding director of the Center for Cultural Studies, a campus research institution that championed a vision of the 'greater humanities,' and strove to establish links both in and outside of the humanities division. He reflects on the 'cultural studies turn' in academia more broadly, which prioritized interdisciplinary, ground-up approaches to study. Clifford closes his narrative with a reflection on the UCSC campus as a physical space, going beyond clichés of its beauty to sketch out his vision of the land as a generative presence, as something that is fundamentally nourishing and creative in ways we don't yet have language to articulate.