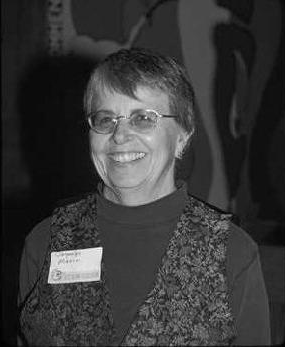 Jacquelyn Marie
Vignettes of a Women's Studies Librarian
by Jacquelyn Marie
Narrative
1981: I come to UCSC for a job, leaving my woman lover behind. No one knows why I take the bus to Berkeley every weekend.
My supervisor takes me around the library for introductions. "This is so-and-so; she works in cataloguing. This is so-and-so; he works in reference. This is so-and-so; he's gay."
One day when I go downstairs to the new books area, I hear tittering over the lesbian novels I have just bought for the collection. I am told later that some have questioned what place lesbian fiction has at a university even though it is taught in some literature classes.
When the partner of a gay librarian comes to work at the library, there are jokes everywhere. The only way to escape is leaving my office, though they soon stop in my presence when I announce I do not want to hear them.
At a library diversity workshop, I come out among the other lesbians, gays, and bisexuals. One of the Chinese-born staff tells me of her dismay at the invasion of my privacy. I tell her, I have the option of revealing my sexuality; she does not have the option of revealing her race.
1990: A young, out lesbian librarian comes to UCSC. I realize I must be far more out than I am to be a mentor and role model to her.
Finally the library has a coterie of GLB staff and it is more comfortable for all of us. We celebrate October as GLBT month and put together a workshop, panel, and exhibit. We are very out. Whenever I teach the students how to do library research, I use GLBT examples, as well as those of race, class, disability, age, and others. I talk about subject headings for books and articles which have changed through the years to be more accepting. In the past, lesbians and gays have been treated as other, such as, "homosexuals as doctors." Now you can see subjects such as "lesbian mothers," "gay soldiers," etc.
After I retire in 2001, I am hired to work with Irene Reti as the archivist for the Out in the Redwoods project. I realize the extent I am involved in the GLBT community as I contact past and present staff, students, faculty.
In a Rainbow Graduation speech, an alumna relates how much it meant to have me encourage her research on Asian/Pacific Lesbians. She then donated her extensive APL archive to the library.
2002: I come back for a holiday party. I tell everyone that my partner and I will be living in Paris and Oakland. She is retiring as a librarian in Los Angeles. People have varying reactions. Some do not ever mention her, some say "your friend," but all are happy for me.