1992, 116 pp. 1 illus.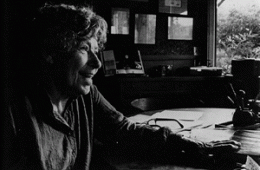 Photo: Helen Hosmer, 1970s (photographer unknown).
Helen Hosmer: A Radical Critic of California Agribusiness in the 1930s
For the complete text [PDF] of Helen Hosmer: A Radical Critic of California Agribusiness in the 1930s and Audio Clip [E-Scholarship]. Includes complete audio (streaming or download) for the oral history. Note: Due to editing by the narrator, there may be some differences between the audio recording and the transcript. Please quote from the transcript as the record. Audio will be found under "Supporting Material."
Helen Hosmer was a writer, activist, and historian of California agribusiness. Her knowledge of California's agriculture dated back to the 1930s when, as a student at the University of California, Berkeley, she worked at the Poultry Division, College of Agriculture. Later she worked for the Information Division of the Farm Security Administration (FSA), which established camps for migrant workers in California. During this period Hosmer came to know FSA photographer Dorothea Lange, agricultural economist Paul S. Taylor, and many important figures in the labor movement in San Francisco. Because of her conviction that labor organizing was essential among agricultural workers, Hosmer resigned her government position at Farm Security in 1935 in order to have the freedom to work on behalf of her political beliefs. She co-founded the Simon J. Lubin Society, an organization that promoted unity between family farmers and migrant labor and exposed the anti-progressive political activities of California agribusiness. From 1935 to 1941 she published and edited the Lubin Society's "Rural Observer". The Society also issued special publications, such as Who Are the Associated Farmers? (reproduced in this volume) and John Steinbeck's Their Blood is Strong.
Hosmer's memoirs also discuss California intellectual, cultural, and political life in the 1920s, and 1930s, red-baiting, the San Francisco General Strike and the Criminal Syndicalism trial, and the La Follette Civil Liberties Committee. After World War II, Hosmer temporarily put aside her political activism and spent over 25 years living in Mill Valley as a housewife, mother, pianist, and gardener. In the early 1960s she resumed her research and writing. She again turned her attention to California agriculture, writing articles for American West magazine, and serving as director for the research committee for the California Farm Reporter.