Gail Harlamoff: Executive Director, Life Lab Science Program
Read the full text transcript (PDF) and listen to the audio of the oral history with Gail Harlamoff.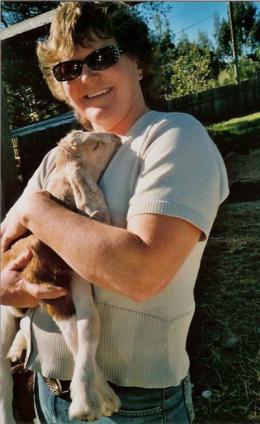 Gail Harlamoff is Executive Director of the Life Lab Science Program, a nationally recognized, award-winning nonprofit science and environmental organization located on the UC Santa Cruz campus. Founded in 1979, Life Lab helps schools develop gardens and implement curricula to enhance students' learning about science, math, and the natural world. The program has trained tens of thousands of educators in more than 1400 schools across the country.
Life Lab's specialized initiatives include LASERS (Language Acquisition in Science Education for Rural Schools)—also known as the Monterey Bay Science Project—which trains teachers in the region to teach language development through scientific exploration. The Waste Free Schools program helps teachers and students reduce school waste through conservation. And the organization's model Garden Classroom, located on the Farm at UCSC's Center for Agroecology and Sustainable Food Systems, is used for teacher training and school field trips and events.
Harlamoff grew up in a (then) relatively rural section of suburban Soquel, in Santa Cruz County, with a large garden that provided much of the family's food. Her own struggles as a hands-on student in schools that emphasized rote memorization, and the strategies she cultivated to overcome those struggles, yielded insights that later helped her excel as elementary school teacher. In 1987, during Harlamoff's first year teaching school, a Life Lab workshop for teachers rekindled her childhood interest in gardening, and set her on a path that led to joining the Life Lab staff in 1996 and eventually taking on the executive director position.
Sarah Rabkin conducted this interview at Harlamoff's home in Soquel, California, on July 8, 2008. Harlamoff told detailed stories about children excelling in garden-based settings who had struggled in conventional classrooms. Outside the house, goats played and rested in a large fenced area, while in Harlamoff's kitchen, adjacent to the room where the interview was being conducted, her exuberant dogs got into occasional bouts of benign mischief.
Links: