2014, Interviewed by Tandy Beal; Edited by Irene Reti, 119 pages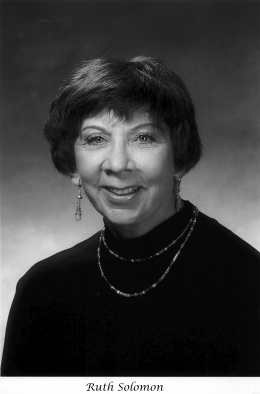 For the full text version [PDF] of "Everything was a Stage": An Oral History with Ruth Solomon, Founding UCSC Professor of Theater Arts and Dance on the University of California's escholarship site. Includes complete audio (streaming or download) for the oral history. Note: Due to editing by the narrator and the Project, there may be minor differences between the audio recording and the transcript. Please quote from the transcript as the record and not the audio. Audio will be found under "Supporting Material."
Ruth Solomon arrived at the University of California, Santa Cruz in 1970 as a professor in the theater arts board and an affiliate of the brand-new College Five (now Porter College). At UC Santa Cruz, Solomon created a visionary program within the theater arts board that synthesized dance and theater. She taught at UC Santa Cruz until 1995. Solomon also founded and coordinated UCSC's prestigious Summer Dance Theater Institute from 1972 until 1980.
In 1953 Solomon entered Bard College's dance program, where Jean Erdman became her teacher and major mentor. While still at Bard, she joined the Jean Erdman Dance Theater and danced with Erdman's company until 1970. Erdman was ultimately to recommend Solomon as the right person to found a new dance program at UC Santa Cruz. At Bard College, Ruth met her future husband, John Solomon. She worked with many well-known composers such as John Cage and Lou Harrison. Her oral history captures the milieu of the dance world in New York City in the mid-twentieth century.
In 1960, Ruth and John married; John joined the army and the pair moved to Puerto Rico, where Ruth started a dance program on the military bases on the island. After a couple of years they moved to Hawaii, where Ruth began a dance program at East-West Center in Hawaii and formed a dance company. In 1967, Solomon and Jean Erdman established a dance program at New York University's Tisch School of the Arts (then called the School of the Arts), where Solomon served as assistant director until she was recruited by UC Santa Cruz in 1970.
 In about 1980, Solomon widened her interests to include dance medicine. "I really needed to know what we were doing in class that could cause the damage we were seeing. Why were dancers having hip replacements? Why did they have knee problems? Why did they have back problems?" Solomon reflected. Since that time, Solomon has completed annual three-month "residencies" under the direction of Dr. Lyle Micheli at the Division of Sports Medicine, Harvard Medical Center, Boston. She tenaciously attended night school at Cabrillo College after a full day of teaching dance at UCSC, and became a certified medical assistant. After her retirement from UCSC, dance medicine grew into a major focus of her career, although she continued to choreograph productions in a diversity of locations.   
Ruth and John edit the Journal of Dance Medicine and Science and she has served on the board of the International Association of Dance Medicine and Science since its inception. She conducts dance medicine studies utilizing the dancers of the Boston Ballet as participants, teaches workshops in dance technique and injury prevention, and produced a popular video on the subject. In 2010 she was named Honorary Fellow of the Division of Sports Medicine, Children's Hospital Boston, Harvard Medical Center.
Solomon has also published broadly. Her books include Preventing Dance Injuries, The New Faces of Dance Scholarship, and East Meets West in Dance: Voices in the Cross-Cultural Dialogue. The Sixth Edition of Ruth and John's Dance Medicine & Science Bibliography, covering the literature in the field for the last 53 years and containing 3,649 citations, became available in January 2014.