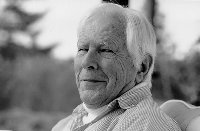 Donald T. Clark
Donald T. Clark: Early UCSC History and the Founding of the University Library
Photo: Donald T. Clark. Photo by Lawrence Madison, 1986.
For the complete text [PDF] of Donald T. Clark: Early UCSC History and the Founding of the University Library (E-Scholarship). Note: Due to editing by the narrator and the Project, there may be minor differences between the audio recording and the transcript. Please quote from the transcript as the record and not the audio. Audio will be found under "Supporting Material."
1993, 203 pp. 1 illus.
Donald T. Clark was the first of founding Chancellor Dean E. McHenry's academic appointments at UCSC. Clark arrived in September 1962 as the founder of UC Santa Cruz's University Library. Clark described his early years in Oregon and California, his undergraduate education at Willamette University, UC Berkeley, and Columbia University, and his more than twenty years at the country's largest business library, Baker Library at Harvard University. He focused much of his oral history on his tenure at UCSC from 1962-1973. He discussed the details of architectural planning for McHenry Library, and development of the book collection. Clark was a pioneer in the area of library automation, working tirelessly to create a computerized book catalog at UC Santa Cruz in the 1960s, the first such effort in the UC system. Clark describes the University Library's special collecting areas such as Santa Cruz local history and fine printing, as well as the acquisition of the Lick astronomical library, the establishment of the Center for South Pacific Studies, the founding of the Lime Kiln Press, and the acquisition of the Norman Strouse Collection of the works of Thomas Carlyle. He also discussed his own management style, his participation in the process of upgrading the professional status of librarian, and his role as chairman of the Academic Senate from 1969 to 1971.