Catherine Barr: Manager, Monterey Bay Certified Farmers' Markets
Read the complete transcript (PDF) and listen to the audio of the oral history with Catherine Barr: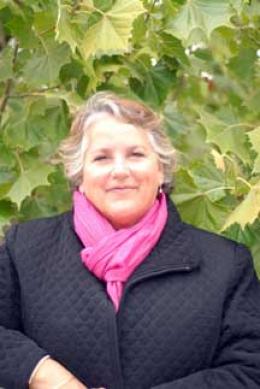 Catherine Barr manages the Monterey Bay Certified Farmers' Markets (MBCFM), a consortium that includes the oldest and largest farmers' markets on California's Central Coast. Founded in 1976, MBCFM now boasts a total of more than eighty vendors at four locations, including Aptos, Monterey, Del Monte (also in Monterey), and Carmel. (At the time when this oral history was recorded, MBCFM had a now-discontinued market in Salinas, while the Del Monte location had not yet been established.) Certification ensures that the fruits, vegetables, meats, and other products available at these markets are grown or raised in California by the farmers who sell them.
Barr moved in the late 1960s from the eastern US to Santa Cruz, where, she jokes, she discovered that vegetables do not originate in a can—"my first real shock as far as to where food really came from." Her agricultural education continued when she married a fourth-generation flower grower, Jonathan Barr, and moved with him to Mexico to grow vegetables. After the Barrs returned to California in 1993, Catherine responded to a newspaper advertisement for a market manager, and beat out ninety-five other applicants.
In this interview, conducted by Sarah Rabkin at the Barr home in Corralitos, California, on May 13th, 2008, Catherine Barr described the responsibilities and challenges, pleasures and pressures entailed in managing multiple year-round farmers' markets.
Links:
Monterey Certified Farmers' Markets: http://www.montereybayfarmers.org/