About the Project Team
Irene Reti directs the Regional History Project at the UC Santa Cruz library, where she has worked as an editor and oral historian since 1989. She holds a B.A. in Environmental Studies and a Master's in History from UCSC, and is also a small press publisher. Reti served as project manager, conducted interviews, edited interview transcripts and wore a variety of other hats.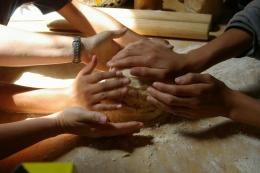 Sarah Rabkin helped conceptualize the project, conducted interviews, and worked as an editor alongside Reti. Rabkin has taught in the University of California, Santa Cruz's writing program and environmental studies department for over two decades. She has led an undergraduate seminar for the Program in Community and Agroecology that focuses on concepts of community and agroecology in the context of sustainability. She holds a B.A. in Biology from Harvard University and a graduate certificate in Science Communication from UCSC.
Ellen Farmer, who conducted many interviews for this project and was actively involved in project planning and outreach, has a B.A. in journalism from San Jose State University and a Master's in Public Policy from the Panetta Institute at California State University, Monterey Bay with a specialization in issues in sustainable agriculture, particularly coffee growing. Farmer worked on an interim basis as marketing director for the California Certified Organic Farmers in 2006.
Rebecca Thistlethwaite, who conducted two interviews for this project, runs TLC Ranch in Watsonville, Santa Cruz County with her husband, Jim Dunlop. Thistlethwaite and Dunlop sell pasture-raised meat and eggs to local restaurants and farmers' markets. In addition to the family business, Thistlethwaite has worked with the Agriculture & Land-Based Training Association (ALBA) as Director of Programs and as manager of the organization's Rural Development Center and Farm Training & Research Center. She now holds a research position with UCSC's Center for Agroecology and Sustainable Food Systems. She writes about farming, food, and social justice on her blog, HonestMeat.com.
Tana Butler, who served as project photographer, is a web designer, photographer, and copywriter who blogs about beautiful, sustainable, small farms on "I Heart Farms: Stories and Pictures of Real People and Real Food" (http://smallfarms.typepad.com/). Her photographs have been published in Sunset, Elle, and The London Observer Magazine.