University Library Newsletter Issue 20 Autumn 2013
Issue 20 Autumn 2013
All of us at the Library are grateful for you, our supporters. Your generous gifts help make it possible for us to support the work of UCSC students, faculty, and researchers.
The first Comprehensive Campaign to raise $300M to fund campus initiatives launched in October. The renovation of the Science & Engineering Library is the Library's top priority. We were honored to have the new UC President, Janet Napolitano, join the festivities around the launch of the campaign.
During her campus tour preceding the campaign announcement, President Napolitano visited McHenry Library. At the campaign launch luncheon she gave a special "shout out" to the Library, commenting on how much she enjoyed her visit to McHenry and how she appreciates the way the Library meets students' varying needs for study spaces. If I may be so bold as to speak for University Librarian Emeritus Lan Dyson, who was in attendance, it was a proud moment for us. 
I continue to advocate for the Library as a place, a collection, and a set of services designed to support the academic and research mission of UCSC. Your ongoing financial support is key to the University Library being the vibrant hub for information access it is today. Thank you. 
I wish you a joyful and safe holiday season,
Elizabeth Cowell
University Librarian
Christy Caldwell, Science Librarian
Over 1,000 Japanese video games have found their permanent home at the UC Santa Cruz Science & Engineering Library after years of an uncertain fate.
A collection of Japanese video games of this breadth and depth will be useful for many disciplines including Japanese
language and history, digital arts and new media studies, and, of course, game design. It also dovetails nicely with our East Asian book collection and the Ching-Yi Dougherty Reading Room, both also located in the Science & Engineering Library.
These games used to live in various places at UC San Diego, under the watchful eyes of several staff and faculty who shepherded their forced relocation numerous times. The games include the Japanese releases of Playstation, Playstation 2, and a handful of PSP games. Many of the Japanese games were never released in North America, and represent a much wider genre of games than normally seen here, including pachinko, anime, and train games among other treasures. One surprise was a surfing video game with a Santa Cruz pro surfer on the cover!
We expressed interest in this unique collection, and, last February, 21 boxes of games arrived on our proverbial doorstep. Due to the generosity of the Rolf Augustine Cataloging Fund we were able to hire UCSC students who had knowledge of both Japanese and of video games to help us translate titles and apply cataloging subjects and genres.
The games' descriptions are now being entered into our CRUZCAT catalog. Then the games will be available for use in our Gaming Lab with Japanese Playstation and Playstation II consoles. The in-Library Gaming Lab is essential for providing access to a variety of consoles, including these somewhat-rare Japanese-region platforms.
We feel very fortunate to have this collection, and are happy to finally be able to share them with you!
Learn more about the Gaming Lab in Playing Games at the Library.
Read about a $418,540 National Leadership grant to the University Library to investigate creating modern, standardized methods of describing computer games.
Many a book lover has found his or her life's work in a library. And some of those people are authors, too. At the UCSC Library we are proud of our published authors.
Among librarians who've edited or authored books recently are Lee Jaffe and Wei Wei. In future issues of the University Library Newsletter, we'll feature other UCSC Library authors, for example Nicholas Meriwether, Irene Reti, and Stanley Stevens.
The Jewish Street: The City and Modern Jewish Writing, An Anthology
Edited by Murray Baumgarten and Lee David Jaffe
CreateSpace, 2013. 
Lee David Jaffe is the Assessment & Planning Librarian and the librarian for Jewish Studies, Philosophy, and Theatre Arts. When Murray Baumgarten, Distinguished Professor of English and Comparative Literature and Co-Director of Jewish Studies, approached Lee for help in finding an anthology of modern Jewish writing related to life in the city, the librarian determined that there wasn't an anthology that met the professor's teaching needs. When the professor proposed that the two men edit the anthology he needed, the partnership was born.
Lee relates, "Early in our project, Murray and I discovered that finding a publisher for our book required that we first resolve permissions issues, but rights holders would not provide permissions if we did not have a publisher. We got out of this Catch-22 by deciding to self-publish and cover the licensing fees via our research allocations." 
Lee and Murray assembled a collection of more than forty stories that address the diversity and creativity of the Jewish urban experience over nearly five centuries. The stories are set in places as diverse as India, South Africa, and the United States. The Jewish Street mixes works by well-known authors with hidden gems by better-known writers, some never before collected in anthologies.
Congratulations to Librarian Lee Jaffe and to Professor Murray Baumgarten!
 
Tracing our Footsteps: Fifteen Tales of Hope, Struggle, and Triumph
By Wei Wei
Friesen Press, 2013
Wei Wei served as the UCSC Engineering Librarian. She is a Fellow of the Special Libraries Association and is the editor and co-editor of Scholarly Communication in Science and Engineering Research in Higher Education (2002); and Leadership and Management Principles in Libraries in Developing Countries (2004).
Thirty years after Wei Wei moved to the United States from China to pursue her career in librarianship, her widowed father, Yong Da, joined her. Wei's life was forever changed by her father's decision. Aged and broken-hearted, he was looking for a new beginning. She, too, experienced a new beginning as she worked to help her father fit into the very different environment of California. This humorous, moving, and rich memoir chronicles their journey to re-establish their relationship.
Tracing our Footsteps is a thoughtful memoir of reunion, cultural differences, and love across decades of separation. 
Thank you, Wei Wei, for sharing your stories.
Autumn Field Studies: Forest Flora & The Artists' Book
Elisabeth Remak-Honnef, Head of Special Collections and Archives
Book artist and naturalist Andie Thrams provided a Halloween treat for more than 40 guests on the afternoon of October 31 in the beautiful new Special Collections reading room. The audience consisted of old and new friends of the library, including students, faculty, Santa Cruz book artists and poets, and book and nature lovers.



Andie shared with the audience how she created the pages for her artist's book, and discussed how it was made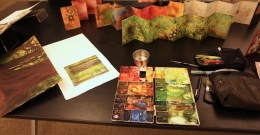 during a 16-day backpacking trip in the southern high Sierra, in Sequoia and Kings Canyon National Parks. Except for the binding, the entire work was created in the wilderness. She worked daily on the pages bound into this volume, drawing, writing, and painting, in mid-elevation forests up to the tree line and beyond. She also demonstrated techniques conducive to working outdoors and described her work as a forest artist.



The library was able to acquire her most recent work, entitled In Forests Volume XXVII: Walking Near Them, which was on display along with some of her smaller accordion books and her backpacking field kit of art supplies.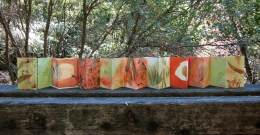 The following day, Andie embarked on a free 3-day indoor/outdoor workshop with a dozen undergraduates who had applied for and been accepted into the program sponsored by the Library and the Colin Fletcher Endowment. The group went into the forests on campus to glean inspiration and materials and study autumn's color palette. Back in the studio (the library staff room underwent a transformation fo
r several days), the students created painted surfaces for their accordion books using watercolor, ink, and gouache. They each produced two accordion books of their own and also contributed a page for a collaborative work bound on the fourth day and presented to Special Collections.  The photographs attest to the success of the workshop: it can be seen in the students' faces and in the books themselves. A few of their comments sum it up:


*"This was a once in a lifetime opportunity to spend three days thinking only about art books  and nature. It was a gift."

*"After learning from Andie, I'll never look at nature the same way again."

*"Andie challenged us to push the boundaries of our comfort zones and we became more creative and collaborative individuals."

*"We learned so much about nature, books, and each other."
A Grateful Volunteer: Scott Carlson and the Garcia Memorial Collection
Nicholas Meriwether, Grateful Dead Archivist
This summer, Special Collections and Archives was fortunate to have Scott Carlson volunteer  his services and help me process the Jerry Garcia Memorial Collection. As the metadata and cataloging librarian at the American University of Sharjah in the United Arab Emirates, Scott spends part of his summers pursuing advanced training in archives, and he sought out the Grateful Dead Archive for the range and varied nature of the collections it holds. I was delighted to have his able assistance, and we spent five weeks working intensely to arrange and describe the more than 3,100 artifacts comprising the collection.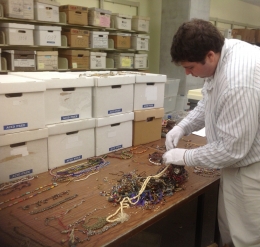 "It was a remarkable experience," Carlson enthused. "Taken out of context, the individual items in the collection might seem haphazard or inconsequential, but together, they represent a material outpouring of the emotions experienced by Deadheads in the wake of Garcia's death." For me, guiding a structured volunteer experience like this was a great addition to the Archive's research mission, which includes teaching and research. Being able to train Scott in the unorthodox challenges of curating a disparate collection like this was a great educational experience for me. I'm particularly pleased that Scott will present a paper on his work and its lessons at the upcoming Southwest Popular/American Culture Association conference in February.
"We're excited to be able to leverage our collections in these creative ways," explained Beth Remak-Honnef, Head of Special Collections. "Training is an integral part of our mission, and Scott's time with us is a reflection of how seriously we take that obligation." Best of all, thanks to our successful crowd-funding campaign to raise money for the collection, the Jerry Garcia Memorial Collection is being re-housed in state-of-the-art archival containers, preserving these fragile materials and letting them educate researchers for many years to come.
 If you'd like to help us fund an internship or structured volunteer experience, please contact Ethan Henderson, Director, Library Development.
The Library: Forever the Core of the University
Lettie Bennett, Associate Director of Library Development
Let's call him Michael. When I chatted with this long-time supporter of the University Library about sharing his "Why I Give" story, the caveat was, "I'd rather be Mr. Anonymous!" So, let's call him Michael.
Michael's parents moved to Santa Cruz when he was of high school age. His parents became active in the community with his mother's focus being on the University Library and on the Arboretum. In due course, Michael became a UCSC student. Michael became a real scholar, delving deeply into the writings of anthropologist and naturalist Gregory Bateson, author of Steps to an Ecology of Mind. [The University Library's Special Collections & Archives houses the papers of Gregory Bateson.]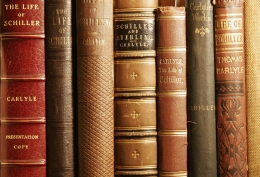 While his mother served as president of the Friends of the Library board, Michael worked as a skilled editor. His excellent education from grammar school right through a year at Harvard Law School served him well. Michael settled in Santa Cruz and continued to make full use of the University Library, its archives, and its special collections. He became a member of the Friends of the Library board and eventually followed his mother's lead and became president of that board. As president he became the voice of the Friends of the Library by serving as master of ceremonies for Friends-sponsored events including the Book Collection Essay Contest and the Dickens Holiday Evening. 
As Michael becomes aware of opportunities to fund specific needs, he does so with enthusiasm and generosity. When asked to distill his reason for giving, Michael says, "The Library is forever the core of the University." And that's enough. 
Thank you, Michael.
UCSC's Office of Planned Giving offers help and guidance in will-making. When you ask, you'll receive two booklets: one provides a form to get you started on making a will; the other provides valuable advice on ways to make a gift AND gain tax advantages or income for life. Just imagine the good your gift can do.  And, yes, please remember the University Library in your estate plans. A gift to the Library is a gift to every member of the University community.
Little Cafés Can Do Big Things
Lettie Bennett, Associate Director of Library Development
"The Global Village Café forces me to be a better, smarter, more respectful decision maker in life. Furthermore, the GVC has made me feel like such an integral part of Slug life that I never want to leave!" Victoria Howard, Head Shift Supervisor, Global Village Café at McHenry Library
Since Fall 2011 the foyer at McHenry Library has served as a hub for students and faculty to gather world news, meet friends, and enjoy fresh and sustainable food provided by Hoffman's Global Village Café. With every quarter since its opening, the GVC has experienced a growth in popularity that is a testament to the demand for fresh, locally grown, high quality organic cuisine.
Library supporter Steve Silberstein funded the café. It was his idea to make the café a place to expand the mind as well as fuel the body with healthy food. Giant world maps suspended at ceiling height remind students of the bigger world as do images of today's front pages of national and international newspapers. Steve's foresight and generosity have had a big impact.
Originally outfitted for an average of 350 customers per day, the Global Village Café now serves as many as 1,300 customers per day. Students, staff, and faculty flock to the café for fresh coffee, hand-crafted baked goods, salads, sandwiches, smoothies, and fresh juice—all of which they are welcome to take into the rest of the library.
Paul Hall (Merrill '72), UCSC Foundation Trustee and Board president, funded the café's coffee bar. Thanks to his generosity the café has the equipment to provide drip coffee. Those sales can exceed over 100 pounds per week and they support a movement within the coffee industry to go beyond fair trade as a standard for coffee bean purchases. The café's vendor, AgroEco Coffee, uses more direct methods to support natural methods of production, while enhancing life for those who produce the coffee beans.
The GVC is a great success story. It
Employs more than 25 people, including students who learn life and business lessons as they earn money
Is a Certified Green Business
Supports local growers and suppliers 
Educates the campus community about smart food choices
Further brands UCSC as a leader in the organic & sustainable food movement
Contributes to the University Library via the rent paid for its space
Provides a meeting place for discussing big ideas and daily life
Fuels minds and bodies with delicious food and drink
So, little cafés can do big things. And generous donors can have a far bigger impact than they might have envisioned.
Let's replicate at the Science & Engineering Library the success of McHenry Library's Global Village Café. To learn how you can be part of the story, contact Ethan Henderson, Director, Library Development at 831-459-5870.
It is with great sadness that we share news of the death of Josh Alper, our dear friend and colleague. Josh was killed while biking on Highway 1 just north of Santa Cruz on Saturday morning, November 2.


Josh graduated from UCSC's Stevenson College in 1998 with a degree in Literature. He began work in the University Library in November of 2005. Josh was passionate about his work in Interlibrary Loan and took great joy and satisfaction in being able to help students and faculty with their research. Josh was an incredibly kind, genuine, and generous human being, which was clear to everyone who interacted with him.
Josh was also immersed in the local music scene from his time at Stevenson College and continued to compose, collaborate on, and perform music. He curated a collection of mod, psychedelic, and folk revival music; he was a cyclist and recently rebuilt a vintage steel frame bicycle; and he was a devoted husband to his wife Annette Marines, a librarian at UCSC.
We will miss Josh in so many ways. His death deeply affects the staff of the UCSC Library.
Our thoughts and prayers are with all those who knew and loved Josh.



 
Editor: Lettie Bennett
Contributors: Elizabeth Cowell, Nick Meriwether, Christy Caldwell, Elisabeth Remak-Honnef, Lettie Bennett
Production: Linda Hunt
Copyediting and proofreading: Mark Engel
Photography:
From the University Librarian - UC President Napolitano admiring Tom Killion's High Sierra book- Luisa Haddad
Pachinko, Anyone? - Doramachikku Maajan (Dramatic Mah Johng), 2002, Buraboo Myuujikku (Bravo Music), 2001
Autumn Field Studies: Forest Flora & The Artists' Book - Elisabeth Remak-Honnef & Andie Thrams
Scott Carlson, processing the Garcia Memorial Collection -  Nicholas Meriwether
The Library: Forever the Core of the University – Jim MacKenzie
Little Cafés Can Do Big Things- Victoria Howard, Head Shift Supervisor, Global Village Café - Lettie Bennett