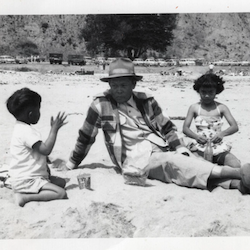 Two new digital exhibits have been published from the summer fellows in the Center for Archival Research and Training (CART). Christina Ayson Plank and Katie Ligmond are both Visual Studies PhD students who created digital projects highlighting and contextualizing some of the collections stewarded by Special Collections & Archives. Learn more about and visit these dynamic exhibits below!
More than their Labor: Sites of Manong Labor and Leisure in the Pajaro Valley
Christina Ayson Plank is part of the project team for Watsonville is in the Heart, a public history initiative led by Dioscoro Recio, Jr. from The Tobera Project and UCSC faculty and students, including professors Kathleen Cruz Gutierrez and Steve McKay. Christina's exhibit highlights audio recordings and photographs documenting the plight, struggles, vitality, and resilience of the manong (roughly translated to older brother) generation of Filipino migrants who first settled in the Pajaro Valley in the early twentieth century. More than their Labor offers a glimpse into the full lives of these families and identifies geographical spots they often frequented around the Pajaro Valley.
The collection of Watsonville is in the Heart oral history interviews are described in the collection guide available via the Online Archive of California. Contact Special Collections & Archives for more information on how to access the full recordings. 
Viva los Libros: Latinx Artist Books in UCSC Special Collections
Katie Ligmond created this digital exhibit to showcase, analyze, and compare a selection of artists' books within UCSC's Special Collections & Archives that are created by Latinx artists, authors, publishers, and communities.
The five books featured are The Book of Sand/El Libro de Arena, Everything I Kept/Todo lo que Guardé, Codex Espangliensis: from Columbus to the Border Patrol, Incantations by Mayan Women, and El Alfabeto Animado/The Lively Alphabet/Uywakunawan Qelqasqa. 
Be sure to visit the Special Collections & Archives reading room to explore these works in person!