Interviewed by Cameron Vanderscoff. Edited by Cameron Vanderscoff and Irene Reti
814 pages /  2018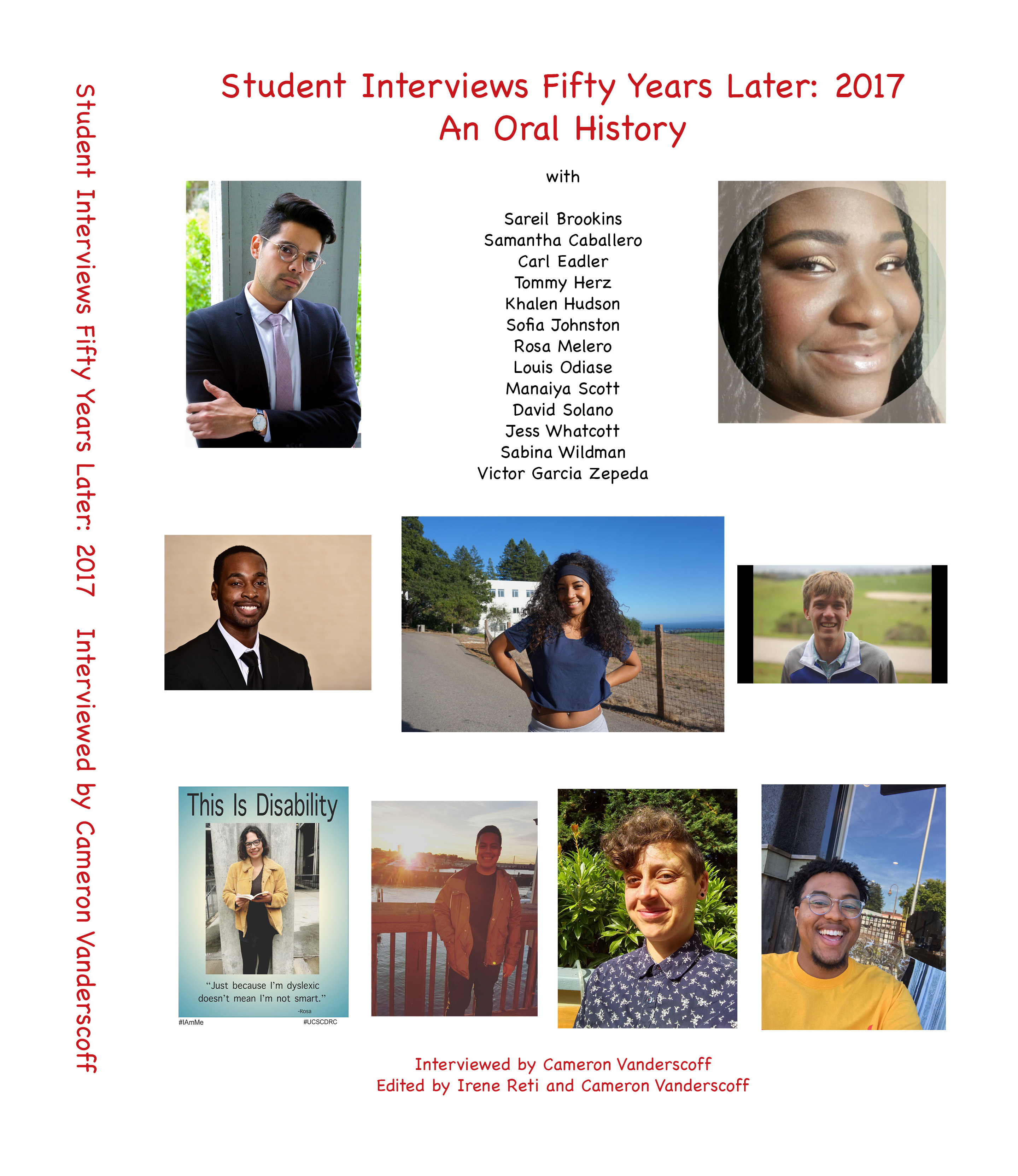 To read the full text [PDF] of Student Interviews Fifty Years Later: 2017 on the University of California's Escholarship site.
The Regional History Project at UC Santa Cruz has rich collections of interviews with generations of narrators, ranging across the administration, faculty, and staff. In the early years of the campus, founding director Elizabeth Spedding Calciano conducted two rounds of interviews focused on the student experience at what was then the newest campus of the University of California. Those interviews, conducted in 1967 and 1969 as the campus was still adding a new college every year, give a window into the original UCSC experiment, and into a time of sociocultural transformation as students responded to the Vietnam War and other social justice issues of the time. While the Project's archive includes various individual interviews with students conducted in the intervening years, in 2016 a decision was made by director Irene Reti to launch a follow-up endeavor focused specifically on the student perspective at UCSC today.
The ensuing project, Student Interviews: 50 Years Later, consists of fourteen interviews conducted in April and October 2017 in a conference room the McHenry Library. In many ways, it was a very different endeavor from the original Student Interviews. At the beginning of 1967, there were only two colleges at UCSC; in 2017, there were ten, and the student population had boomed exponentially from less than 1,000 to more than 18,000. UCSC has grown into a major research university, offering more than sixty undergraduate majors and dozens of graduate programs across the divisions. In selecting students, there were new challenges of scale, and the challenge of finding a scope of voices that could speak to meaningfully different and diverse experiences on campus became a project in itself.
However, while many things have changed at UCSC, this was a venture of continuities as well. Like the original Student Interviews, we accepted from the beginning that it was neither possible nor desirable to strive for a group that could fully represent the student story at UCSC. In addition to that story being far too plural and varied, we know that surprise and singularity are as much an element in oral history work as trends and commonalities. This is a gathering of unique and powerful life histories. That said, we did seek a group that could illustrate distinct points along the range of student experience here. Taking our cue from the '67 and '69 interviews, we contacted the provost of each college for recommendations, compiling a long list that we narrowed down to our final candidates. We also reached out to the directors of the resource centers, EOP, the graduate division, and selected student organizations. As a result, all ten colleges are represented here, as are many resource centers. While the group is mostly undergraduates, we do have graduate students as well. We also made certain that we had majors from all divisions, and strove for an intersectionally diverse and dynamic group, exploring relationships to place and space through the lens of racial and ethnic identity, sexuality, gender, class, and other markers of social difference. For 50 Years Later, this task was baked into our larger exploration of our narrators' academic and extracurricular work at UCSC, as well as their life histories, inspirations, struggles, and aspirations.
One notable bias of our selection process is that, since we largely relied on faculty and staff recommendations, we tended to locate students that were exceptionally involved in their residential or academic communities, and were therefore especially visible to their recommenders. There are, of course, many other students who choose different spheres of involvement, or who, especially in the context of a growing research university, may simply not find the same recognition. For those who are struck by the thoughtfulness, eloquence, and importance of the stories included in this compendium, it is our hope that this reading can be the beginning of a greater curiosity and connection with the breadth of the student experience at UCSC. These are voices that need to be heard more widely and more clearly when it comes to the present and future of this campus.
An unexpected parallel between the '67 and '69 student interviews and this new '17 project came through the rise of political awareness, activism, and debate at UCSC in the aftermath of the election of Donald Trump. The Sixties interviews took place in the Johnson and Nixon presidencies, a time when many students here were asking pointed questions about the priorities of their school, the Vietnam War, the nature of their education, and the future of justice in their society. These themes return in our 2017 interviews, as students share their life journeys of coming to this campus, their work finding a place here—more than one narrator describes our campus as a "PWI [predominantly white institution]"—and their hopes for how their UCSC education can shape their opportunities and outlook going forward. While some of their stories are particular to certain colleges or majors, many shine a light on deeper issues about this campus, including who is welcome here, how students adapt and make their way in their education, and what debates, dialogues, and differences mark the institution today. These are stories of community, stories of creativity, and stories of critique alike.