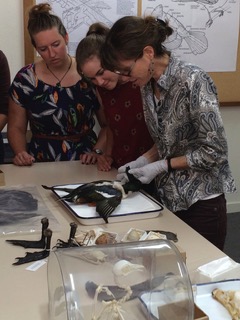 Jennifer Keller (R) with Science Illustration students Natalie Renier (L) and Lindsey Kernodle (R) Courtesy: Science Illustration Program.
Interviewed by Sarah Rabkin. Edited by Sarah Rabkin and Irene Reti. 241 pages, 2018
To Read the Complete Text [PDf] of Teaching is New Every Day: An Oral History of Science Illustration Teacher-Administrators Jenny Keller and Ann Caudle on the UC Escholarship website.
The Science Illustration Certificate Program is internationally recognized as one of the most prestigious training platforms of its kind, this postgraduate curriculum prepares students with backgrounds in art and/or science to be professional visual communicators about scientific subjects.
The year-long program involves a rigorous curriculum of classroom and studio work, guest presentations and field trips, followed by ten or more weeks of internship. Graduates work as freelance and staff illustrators for hundreds of organizations, including zoos, aquaria, museums and botanical gardens, public and private research institutes and public agencies such as the U.S. Fish and Wildlife Service, and publications such as Scientific American and National Geographic.
UC Santa Cruz alumnae Jenny Keller and Ann Caudle have built, administered and taught in the Science Illustration Certificate Program since helping to establish it in the 1980s under the auspices of UCSC's Graduate Program in Science Communication. They presided over the illustration program's eventual migration from campus to UCSC Extension's classroom facility in downtown Santa Cruz, and later to their current institutional home: the College of Science at California State University, Monterey Bay.  In this oral history, Keller and Caudle describe the creation and evolution of the certificate program as well as their approaches to science communication, art and illustration, teaching and administration.