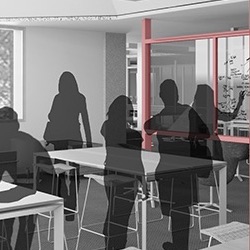 During fall and winter quarter, faculty and students may request items from the Science & Engineering Library collection using UC Library Search. The Library will fill item requests via interlibrary loan or purchase.
Physical collections located in the Science & Engineering Library stacks will not be accessible during the first floor renovation project beginning Wednesday, September 22, 2021. Normal access to Science & Engineering Library physical collections should be restored by the end of spring quarter 2022.
FAQs
What are you doing with the physical collection during the renovation?
We will be removing the collection from its old shelves, securely storing it, and placing it in a new compact shelving system on the same floor, similar to the one in McHenry Library.
Are you shrinking the Science & Engineering Library collection?
No. Every volume that is coming off the old shelves will go into the new compact shelving system.
Why are you doing this?
Space for collections and space for library users. Compact shelving is much more space efficient. The new system will have a smaller footprint, but also add about 33% more capacity. That will help us better manage the collections we already have and give us room for their future growth. Moving the collection from its old location in the center of the floor to its new location in the southeast corner also allows us to improve and expand the Digital Scholarship Innovation Studio, and to add four new group study rooms.
Why can't we access the collections during the renovation project?
Safety. The collection is being temporarily housed in high-capacity industrial book carts. They are very heavy and very densely packed. We determined that accessing the collection during the renovation would pose an unacceptable safety risk to library staff.