Endow a Collection
Your investment in knowledge will enrich the experience of the entire University of California community.
Library Endowments provide permanent funding for our collections. They can be dedicated to an area of study that is important to you or they can be broadly directed.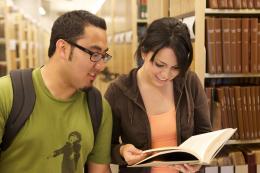 Because of the breadth of UCSC's scholarship and research, endowments in all subject areas are useful. Some donors establish subject endowments to enrich areas of the collection central to university teaching. Others focus on specialized interests. You can help fund an existing endowment, join with others to start a new endowment, or establish a commemorative endowment to memorialize a loved one or special event.
The gift of a broadly directed endowment is especially appreciated.
A new subject endowment can be established with as little as $25,000 donated over a five-year period. The donor may name the endowment (pending approval by the university). Your endowment contribution will continue to fund the growth of your chosen collection each year.
Every year income from endowments provides hundreds of thousands of dollars in support of library collections.
For information on establishing or contributing to a subject endowment, please email the Library Development Office or telephone us at 831-459-5870.