New Library Search Tool Coming this Summer!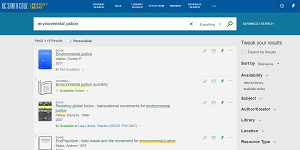 Coming June 20th! The Library will launch a new tool for searching across Library resources via a single search box on our home page.
The new search tool will help researchers discover books, ebooks, journals, full-text scholarly articles, newspaper articles, archival finding aids, images, videos, music and more. A modern, intuitive interface will provide our community with many great features, such as article recommendations and saved searches, as well as advanced search options.
CruzCat, our 18-year-old library catalog, will be going away but Melvyl will still be available. If you have any Lists or Preferred Searches saved in CruzCat, be sure to export them prior to June 20th.
Check back here in early June to see a beta version of the new search tool and to provide feedback to the Library or volunteer for user testing.