Library Tours: September 21 - 28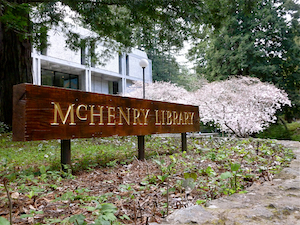 Join us during 2018 Fall Welcome Week!
Join members of the Library's Undergraduate Experience Team (UET) and take a short walking tour of the University Library. Tour points of interest include the Global Village Café run by Cafe Brasil, the Information Commons, group study rooms, the Digital Scholarship Commons, Special Collections, and much more! We are also offering daily tours of the Science & Engineering Library.
You will also learn about important library services such as Course Reserves for your classes, borrowing Chromebooks, expert research help, and the Interlibrary Loan service that can bring the world's library resources to you! New students: While you're here, take a minute to activate your library card (it's the same as your UCSC student ID). Tours run approximately 15–20 minutes. Join us and get to know your University Library!
Tour Schedule (All tours will meet just inside each library's entrance):
Friday, September 21st
McHenry Library: 11am
McHenry Library: 1pm
McHenry Library: 3pm
Science & Engineering Library: 1pm
Monday, September 24th        
McHenry Library: 11am        
McHenry Library: 1pm        
McHenry Library: 3pm    
Science & Engineering Library: 1pm
Tuesday, September 25th
McHenry Library: 11am
McHenry Library: 1pm
McHenry Library: 3pm
Science & Engineering Library: 1pm        
Wednesday, September 26th
McHenry Library: 11am
McHenry Library: 1pm
McHenry Library: 3pm
Science & Engineering Library: 1pm        
Thursday, September 27th
McHenry Library: 11am
McHenry Library: 1pm
McHenry Library: 3pm
Science & Engineering Library: 1pm        
Friday, September 28th
McHenry Library: 11am
McHenry Library: 1pm
McHenry Library: 3pm
Science & Engineering Library: 1pm